Post was removed on Jan. 10th and reposted on Jan. 19th.
Warning….if you do not want to see the 2009 Spring & Summer Idea Book & Catalog…..go no further 🙂
Sorry it took me all day to get this posted….hope you think it's worth the wait…I do!! Before I show you the catalog I have to show you a picture of one of the display boards that shows you super cute samples made with the Good Friend stamp set (that's the set we got free with Leadership). You know how I love birds….well, this one is sooo stinkin cute….seriously…I love it and it stamps very easy. The cards we made tonight were so cute and I'll show you those soon!!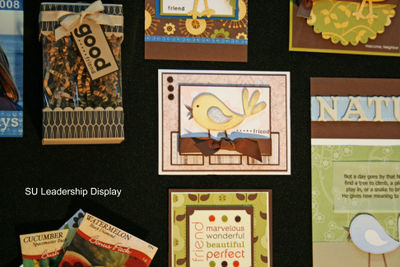 Now for what you've been waiting for ….the 2009 Spring & Summer Idea Book & Catalog…keep reading for more info 🙂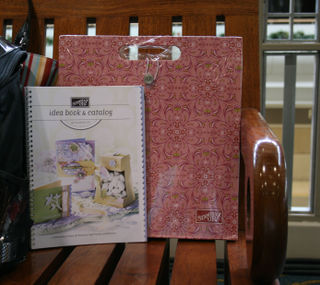 I love the catalog but let me just say…if you do not own the Big Shot….I'm not sure how you will resist after you see the new catalog….OMG!! They knocked my socks off with the new additional items…not only do we have new dies but also embossing folders. Remember the Butterfly on the current catalog? guess what new die we have???
Another of my favorite new things is the New Circle cutter….we were able to use it today…I already have a project planned to you how easy it works!!
Tomorrow is the first official day of Leadership & tomorrow night I'll be attending my first Managers Reception …at Universal Studios.
More news soon….thanks for stopping by!!