Chic Rewards = FREE Product of your choice.
FREE Product for your choice (only product that is in stock and not on backorder)
You can use your Chic Rewards to earn a FREE STAMPIN' UP! PRODUCT valued at $47.50!!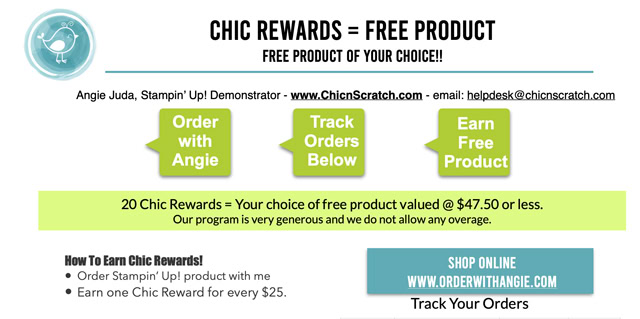 What is Chic Rewards?
Chic Rewards is my frequent shopper program and it's available to all my customers.
Track your Chic Rewards (see form below).
When you reach Twenty (20) Chic Rewards, you get a FREE your choice from the four options (Stampin' Up! product valued at $47.50 or below from any current catalog).
REDEEM – Claim the FREE product by filling out the online form below (or print the form at the very bottom). If you choose to use the form you can either email it or mail it.
More Chic Rewards Program Details
You are responsible for tracking your orders.
You earn one Chic Reward for every $25. *$24.95 does not qualify for a punch. * Orders can not be combined to reach $25. If you order 48.70…..you get one Chic Reward. The leftover amount does not carry over.
Punches are based on product subtotal before tax and shipping.
Collect 20 Chic Rewards and redeem.
Punches expire in two years from their purchase date.
Please allow 2 to 3 weeks for delivery of your free stamps.
Chic Rewards are not earned with Host Code Gifts.
Watch for Double Chic Rewards – I offer them at least three times and a year and sometimes more!!
Click here if would like to Print the Chic Rewards Form to keep track of your punches.
The list below does not count towards Chic Rewards.
Hostess Code/Host Code Gifts
Card Club
Stamp Class
Online Classes/ Workshops
Make n Take Packets
Designer Series Paper Shares
Tutorials
Chic Shop – product sold here on my blog – example: Chic Stands, Coasters, Retired product
Stampin' Blends Club – Ink Pad Club
Bella's Bundles
Black Friday / Cyber Monday
Chics n Crafts
Bingo
Thanks for choosing me to be your Stampin' Up! Demonstrator!! If you have any questions please don't hesitate to contact me by clicking here.
This program was updated June 21st, 2023 and is subject to change when necessary.