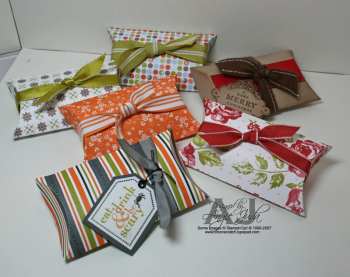 Good evening!
Aren't these Pillow Boxes darling? I have to be honest, I think I'm addicted…..after I made one I had to make another & then when I was done with that I had to make a another…..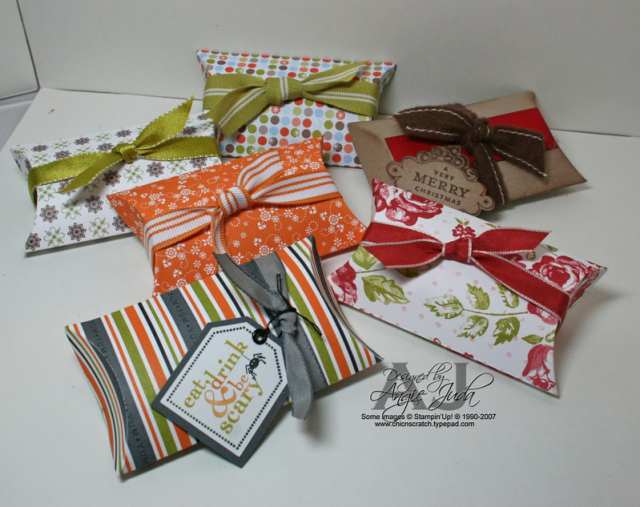 Make sure you look closely….you'll see some new product in there that arrived at my house today!!
Here's a list of the the new goodies: 1) Eat Drink & Be Scary stamp set 2) Frosty Day Designer Paper 3) Alpine Ribbon (Chocolate Felt) 4) Ski Slope Designer Paper 5) Pillow Box Big Shot Die.
One of the things I love about being a demonstrator is we get to order product one month before it becomes available to everyone. That allows us to create some great projects in advance. If you thinking of becoming a demonstrator, don't forget the the Starter Kit is still on sale!! Please email me for details.
Thanks for all your prayers and kind words!! Daddy got the Pacemaker this afternoon and so far so good. He's staying the night at the hospital and if all goes well he'll go home tomorrow.
Good night….see ya Friday (unless I decided to post one more time in the evening…..I kinda like switching things up)
p.s. Thanks girls for placing your orders on my Demo website today…it was very exciting…..wasn't it? Sorry the system was down for a while…for your patience, everyone that places an order on my demo website Thursday & Friday will also get an emblem sent to them with their punch card. If you're not familiar with my Customer Appreciation program, click here. To get to my website, all you need to do is click on the picture of the Idea Book & Catalog (upper left corner of this blog)……and …..to view the Big Shot Brochure, click on the Big Shot picture 🙂