How to Make a Shaker Card with Chic n Scratch, Stampin' Up! Demonstrator Angie Juda
My crafty project for you today is How to make a Shaker Card with the We'll Walrus Be Friends Cling Stamp Set and the High Seas 3D Embossing Folder.
I used the Layering Squares Dies to make the box to hold the Iridescent Sequins. And the Layering Circles Dies for the scallop circle behind the greeting.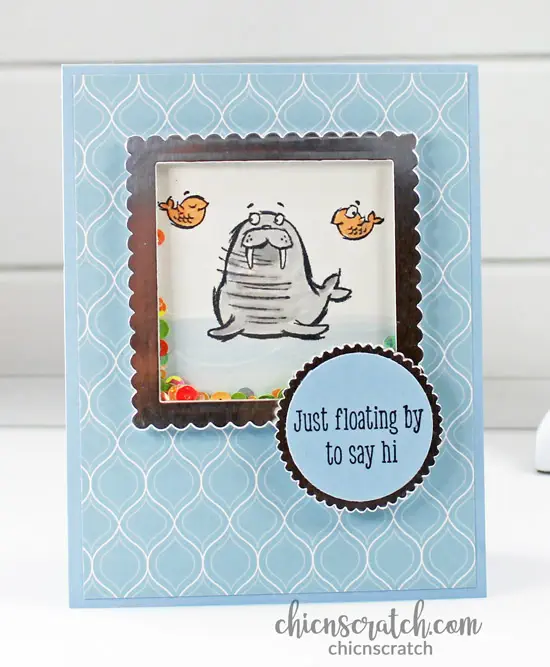 I demonstrated how to make this Shaker Card on Facebook this morning but I forgot to use the High Seas 3D Embossing Folder … it's been corrected in my video below. My warm up version of this card was Coastal Cabana and then I made a Balmy Blue Shaker Card on Facebook …and for my You Tube version I changed up the pattern of the Designer Series Paper and used Seaside Spray. Turns out this one is my favorite!!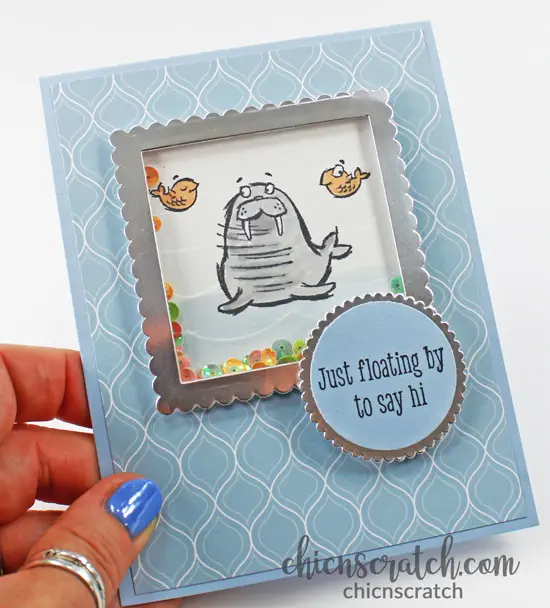 It's not the easiest card to photograph because of lighting but it's a super cute card!! Here's a picture of all three of the cards (Coastal Cabana, Balmy Blue and Seaside Spray).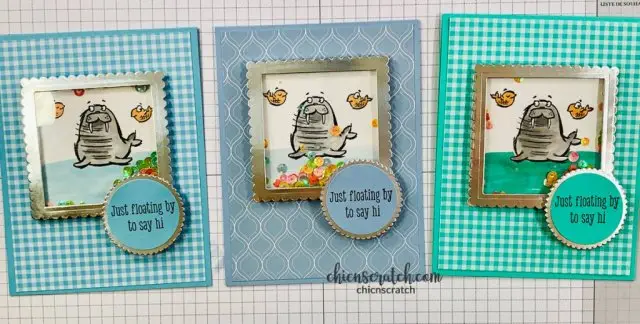 Video Tutorial
Thanks & have a great day!!
Chic Paper Ink Day
Tomorrow is Chics Paper Ink Day and it's the day that I offer training to the Stampin' Up! Demonstrators on my team. We start at 9am with one on one coaching calls and our group call on Zoom is at 10:30. I'll spend the rest of the day taking calls, running reports, shipping gifts, etc. If you're thinking about joining let me know and I'd love to chat with you!! I always offer a one on one phone call because texting and emails don't really allow us to get to know each other and even if you're thinking of being a hobby demo …. I still want to get to know you!!
Holiday Catalog
The Holiday Catalog goes live on September 4th and if you've placed a minimum order of $50 in the last 90 days (3 months) I will ship you one for FREE and all that I ask is that you fill out my request form. I will email the form next week to those that have already qualified. If you have not ordered a minimum of $50 in the last 90 days you still have time to place an order and receive one for FREE. Please remember that the annual catalogs were shipped out just a few months ago and it was a huge expense for myself and most Stampin' Up! Demonstrators…. because of the shipping rates in the US. I apologize for having to discuss it but it's necessary not only for my business but also my downline and I appreciate you understanding!!
Bonus Days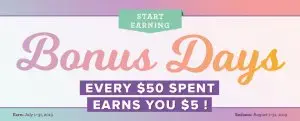 Bonus Days are back! For every $50 you spend July 1–31 (before shipping and tax), you'll get a $5 Bonus Days coupon that you can use August 1–31, 2019.
An email address is required to participate; Bonus Days coupon codes can be delivered only via email.
If you earn multiple codes from a single order, you will receive one email with multiple codes.
If you earn multiple codes from multiple orders, you will receive separate emails for each code earned.
Extra Extra Recruiting Promotion
From July 1 until August 31, you can join my team and become a Stampin' Up! Demonstrator and receive an additional $30 to put toward bonus products in your Starter Kit. You will pay $99 and choose $155 worth of Stampin' Up! products in your Starter Kit. THEN, you'll receive a $10 coupon code the following month. Click here for more information.
Stamp Club Online can help you budget your Stampin' Up! purchases during your six month membership.
Stamp Club Online members – Your July Host Code is: X2YC6UES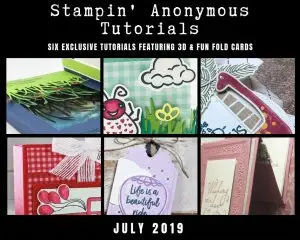 Any size order will receive the Stampin' Anonymous Tutorial Free!
You have three ways to get this amazing tutorial….
Receive it FREE with any Stampin' Up! order placed with me this month.
Purchase the PDF tutorial for $9.95 (one month price). Click here to Buy
Join my Team! They get them free!
Chic Candy #33 – Leave a comment below to enter to win. This Chic Candy has two spots to enter to win … you only leave to leave a comment on one to enter (I will download them to a spreadsheet and use random generator to pull a number).
July Host Code: WXNDKCPQ

Stampin' Up! Shopping List