Geared Up Garage Card by Chic n Scratch, Stampin' Up! Demonstrator Angie Juda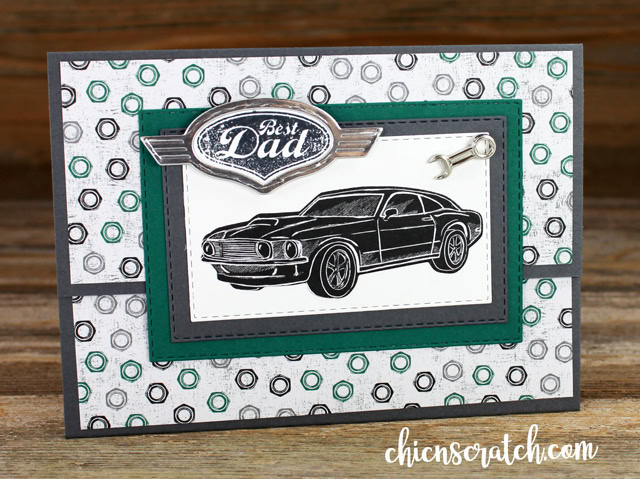 My project for you today is the card we made on Wednesday during my Coffee & a Card on Facebook.
Just as soon as I wrapped up my live video … Facebook went down. I didn't realize how much I used Facebook to run my Stampin' Up! business until it was down for almost an entire day. I felt lost and I know many of you shared you felt the same! I think we all learned a lot about ourselves that day. I always suggest to my downline that they need a blog to run their business (it's the home base of our business) because we never know what Facebook or all the other social media companies will do …will they even be around in 10 years? I think they all will agree with me now.
Sorry about that lane swerve … let's get back to my card, here's the inside….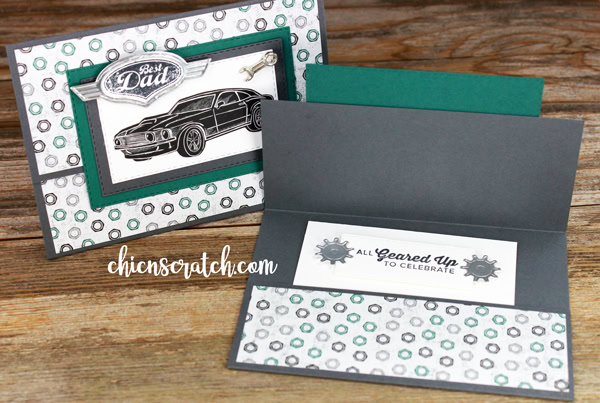 I was quite proud of myself when I created this card because much like many of you … I struggle with making masculine cards!
I used the Geared Up Garage Bundle with the Classic Garage Designer Series Paper. The colors are Basic Gray and Tranquil Tide and don't forget Tranquil Tide is one of the colors retiring in a couple months.
If you didn't catch the live video please watch the cleaner version below as I made a few suggestions for those that may not want to make a Father's Day Card (replace the Best Dad greeting with any greeting that will fit).

Painted Seasons Make n Take
Place a minimum order of $50 using

Host Code: FG2EVK9V

Receive a make and take packet to complete four projects using the Painted Seasons Designer Series Paper. All four projects will be shown on my blog this week.
Before using the Host Code please read all the details.
Chic Rewards Customers: Please
do not
use a Host Code if you want your order to count towards Chic Rewards. Please
email me by clicking here
and I will share with you how you can receive one of these make n take packets.
MAKE N TAKE PACKETS INCLUDES:
Eight 6 x 6 sheets of the Painted Seasons Designer Series Paper

Card Stock and Embellishments to complete all four projects.
I love comments!! If you have any questions/comments about this post please leave a comment.
Thanks & have a great weekend! ?
p.s. I'm sorry I didn't post very many projects this week!! The headache and sore throat keeps reappearing and I am not having a very good birthday week. It's driving me crazy because Brooke is home for Spring Break and all we've done is seen Captain Marvel and go out to eat a few times. I told her I'd it make it up to here this summer!
My other offerings…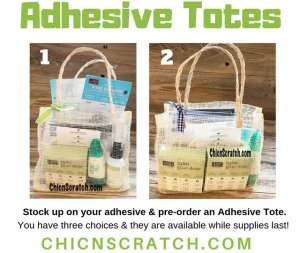 Stock up on your Stampin' Up! Adhesive and save money!!
This year our price reflects FREE TAX and FREE SHIPPING.
These Adhesive Bundles would be a perfect gift for any papercrafter and Mother's Day is just around the corner!!
UPDATE on Adhesive Totes: All Adhesive Totes orders placed before March 12th have shipped! Yay!!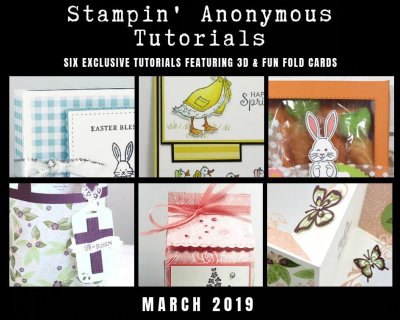 Any size order receives the Stampin' Anonymous Tutorial FREE!
You have three ways to get these amazing tutorials….
Receive it FREE with any Stampin' Up! order placed with me this month.
Purchase the PDF tutorials for $9.95 (one month cost). Click here to Buy Now.
Join my Team! They get them free!
If you would like to purchase any of the product used in making my project, here's the Stampin' Up! Shopping List: