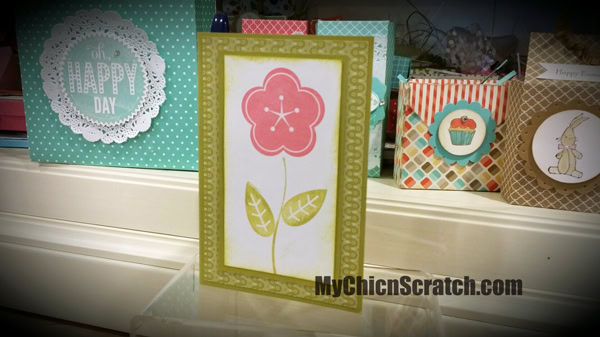 Before we talk about the Post it Note Holder I need to remind you that today is the last day for FREE Shipping!
And if you decide to order please check out the retired lists (posted below).
Now back to the picture …
We're streaming live tonight at 8pm central time on UStream and the project in the picture is a post it note holder that I made years ago. It holds a pad of post it notes, an ink pen and a pocket. I've had numerous requests to remake it. So, that's what we'll do …but if you have another project that you'd like to request … feel free to email me your suggestion. Click here to head over to UStream tonight at 8pm.
If you follow my Chic n Scratch Facebook page I'll send two or three reminders before the event starts (if you are not currently seeing my posts on Facebook …. leave a comment or like a post and hopefully that will allow you to start seeing things again … Facebook is free what can I say?).
Retired Lists
Click here to download the Retiring Stamps List.
Click here to download the Retiring Accessories List.
These are the items are Sold Out.
Stamps: Birthday Cake (W), Rev up the Fun (W-C), Backyard Basics (W-C), Fishing Around (W), Five Way Flower (W), Simply Stars (C – W), Tag it (C), Woodgrain (C-W), Blessings from Heaven (W-C), Creative Elements (C), Delicate Doilies (C), En Francais (W), Fabulous Florets (C), Harvest Blessings (W-C), My Friend (C), Mr & Mrs (W), Storybook Friends (C), Sunflower (C-W), Take Care (C), Animal Talk (C), Baby Prints (W-C), Bring on the Cake (C), Bug me (C), Create a Cupcake (C), Delightful Dozen (C), Field Flowers (C), Fine Feathers (W-C), Forever with You (C), Great Sport (C), Hello Doily (C), Horse Frontier (C), Love & Laugher (C), Lovely Little Labels (C), Off the Grid (W), Perfectly Penned (W-C), Pure Gumption (C), Secret Garden (W), So Sorry (W-C), Worth the Wait (W), You're Amazing (C), Zoo Review (W-C)
Wheels: Timber, Birthday Candles, Measuring Stick,
Accessories: Birthday Candles Jumbo Wheel, Backyard Basics Bundle (W-C), 2012-2104 In Color Card stock (all colors). 2012 – 2014 In Color ink Refills, Dazzling Diamonds Glitter, Strawberry Slush Ruffle Trim, Un-Inked Jumbo Cartridge
Blog Subscription
Subscription to my blog feed has changed. For years I've used Feedburner and the service is no longer being supported. As of today we've changed over to Feedblitz. I don't know about you but I'm really looking forward to everything working again!! If you're currently using Bloglovin or Feedly and are happy with that service you're all set. But if you are not currently receiving my blog posts in your email box … you can sign up using the brand new box on the right bar. Thank you all for your patience!!!
Here's a picture of the box you want to use to receive my blog posts in your email box.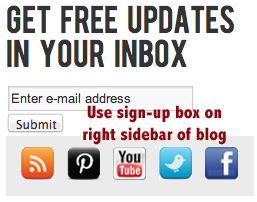 Thanks & have a great day!
Hostess Code: J9HEHFBZ
Use this Hostess Code and receive a free gift. (Please do not use the Hostess Code if your order is $150 or more).