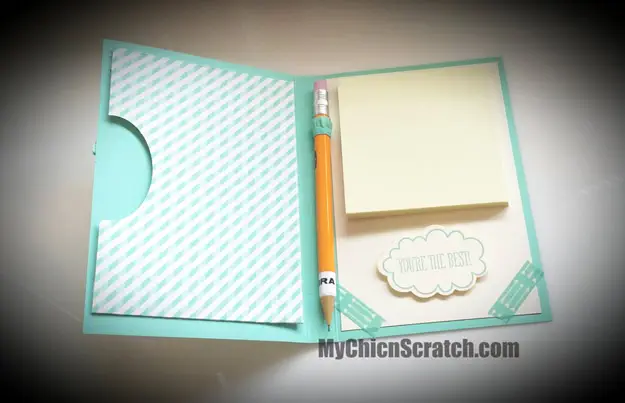 During the live stream last night we made this Post it Note Organizer. I share the front of it on Monday.
It's a project I've made before …but I like this one so much better.
We used the Retro Fresh Designer Series Paper & Washi Tape along with Coastal Cabana card stock.
I'll share a quick and cleaner version of the video on You Tube … Monday! I had some ladies that want to make this project asap so I thought I would go ahead and get it posted.
Here's the live stream video on how to make the Post it Note Organizer.
Congrats to the following ladies!! Your names were drawn to win Prize Patrol from the live stream.
Sherri Woolsey
SnailMailSmiles4U
Sheryl Whetzell
Please email my assistant your mailing address and she will ship your prizes asap.
Retired Lists
Click here to download the Retiring Stamps List.
Click here to download the Retiring Accessories List.
These are the items are Sold Out.
Stamps: Birthday Cake (W), Rev up the Fun (W-C), Backyard Basics (W-C), Fishing Around (W), Five Way Flower (W), Simply Stars (C – W), Tag it (C), Woodgrain (C-W), Blessings from Heaven (W-C), Creative Elements (C), Delicate Doilies (C), En Francais (W), Fabulous Florets (C), Harvest Blessings (W-C), My Friend (C), Mr & Mrs (W), Storybook Friends (C), Sunflower (C-W), Take Care (C), Animal Talk (C), Baby Prints (W-C), Bring on the Cake (C), Bug me (C), Create a Cupcake (C), Delightful Dozen (C), Field Flowers (C), Fine Feathers (W-C), Forever with You (C), Great Sport (C), Hello Doily (C), Horse Frontier (C-W), Love & Laugher (C), Lovely Little Labels (C), Off the Grid (W), Perfectly Penned (W-C), Pure Gumption (C), Secret Garden (W), So Sorry (W-C), Worth the Wait (W), You're Amazing (C), Zoo Review (W-C), Sweetly Framed (W)
Wheels: Timber, Birthday Candles, Measuring Stick, Bella Boutique
Accessories: Birthday Candles Jumbo Wheel, Backyard Basics Bundle (W-C), 2012-2104 In Color Card stock (all colors). 2012 – 2014 In Color ink Refills, Dazzling Diamonds Glitter, Strawberry Slush Ruffle Trim, Un-Inked Jumbo Cartridge, Crumb Cake Taffeta Ribbon, Coastal Cabana Ruffle Trim, Sponge Daubers
Thanks!
Hostess Code: J9HEHFBZ
Use this Hostess Code and receive a free gift. (Please do not use the Hostess Code if your order is $150 or more).