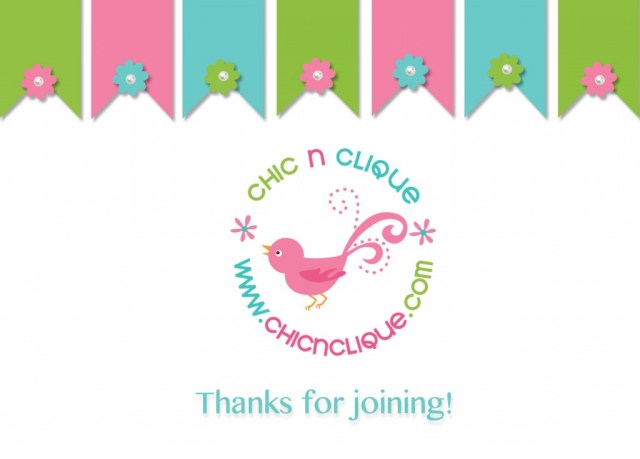 This week I'm working on several little things … and the first item of business is my Thank You postcards for joining Chic n Clique.
I created them using MDS and so far we've got them stuffed and sealed with Washi Tape (licking that many envelopes would surely kill me … just kidding). Sorry for the bad lighting .. it's been raining and storming all day and it looks like we'll have this weather for the next three days.
Back to the postcards .. like I said I used MDS (My Digital Studio) to create them and I used the color picker to use all the colors in my logo. (The picture below doesn't do it justice because of the lighting.) Once I wrapped up designing them … I had them printed with the Stampin' Up! printing services. I LOVE them!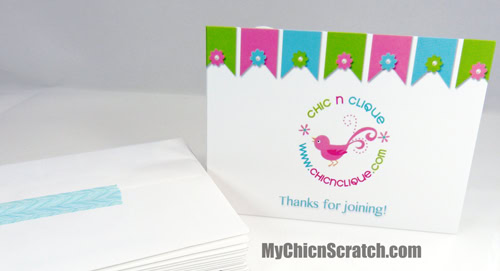 The next order of business is my Downline Gifts for March. Anyone in my downline …will receive one of these kits if they placed an order in March (with themselves or if they had a customer place an order). Click here to see the Gift Bag that they'll be making with the kit.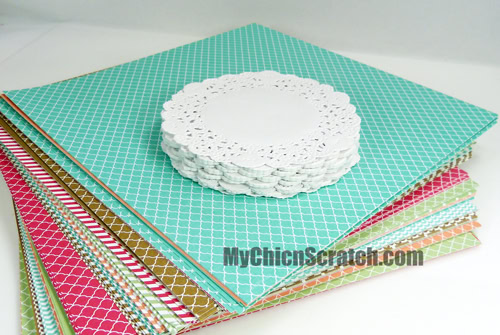 Chics Paper Ink … yes you will receive a kit in the month of April too … if you place an order in April. But it will arrive late May because early May I'll be on the Stampin' Up! cruise. As soon as I get the project finished I'll post it for everyone to see.
Here's what the kits look like (I LOVE making kits)… we still need to add the Project Supply Sheet.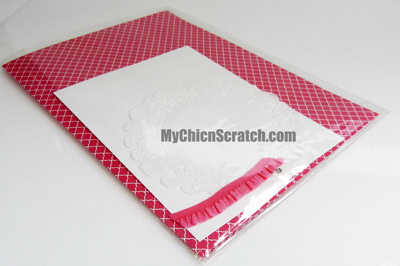 Weekly Deals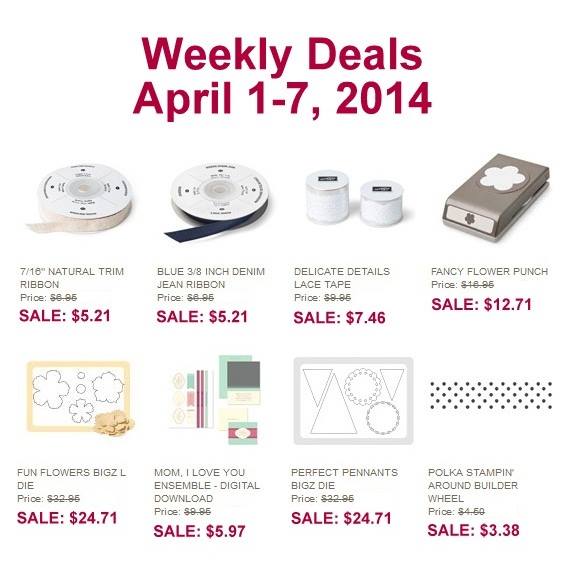 Blue 3/8 Inch Denim Jean Ribbon Item # 125053
Delicate Details Lace Tape Item # 130966
Polka Stampin' Around Builder Wheel Item # 130109
Perfect Pennants Bigz Die Item # 123126
Fancy Flower Punch Item # 118073
Fun Flowers Bigz L Die Item # 121812
7/16″ Natural Trim Ribbon Item # 129287
Mom, I Love You Ensemble – Digital Download Item # 129872
Personal note: I'm not sure what's up … but I'm so extremely tired I can hardly function. Hence the reason why I'm working on kits today … it hardly requires any thought process. I'm pretty behind on everything due this week … but hopefully next week I'll be back to normal. It's no secret that flying does a number on me … I can't tell you how many times I've ended up in the hospital after a trip. So, yesterday I spent half the day in bed …. and unfortunately it didn't help. But like I said … it will pass … I just need to get some more rest.
If you need me please don't hesitate to contact me … even though I'm behind .. customer service is very important.
Thanks & have a great day!
Hostess Code: U6PBSQSE
Use this Hostess Code and receive a free gift. (Please do not use the Hostess Code if your order is $150 or more).