Stampin' Up! Holiday Sale

Dates: November 20-December 2, 2013
Details
It's time for online holiday shopping!
Don't miss out on our 24-hour-only doorbusters happening on the first day of the sale!!
30 percent off:
Stampin' Trimmer
Simply Scored Diagonal Plate
Many Marvelous Markers
The 24-hour sales period on these three products ends at 11:50 PM (MT), November 20.
The Fine Print
Discounts range between 20 and 50 percent!
Hostesses who have earned a 50%-off item may not apply that discount to an already-discounted product.
There's no minimum purchase required to participate in this promotion.
For product bundles, you need to use the bundle item numbers provided. If you use individual item numbers, you won't get the discount.
You can buy additional products from any of our current catalogs on the same order.
In addition to the Holiday Sale …. we also have ……
Weekly Deals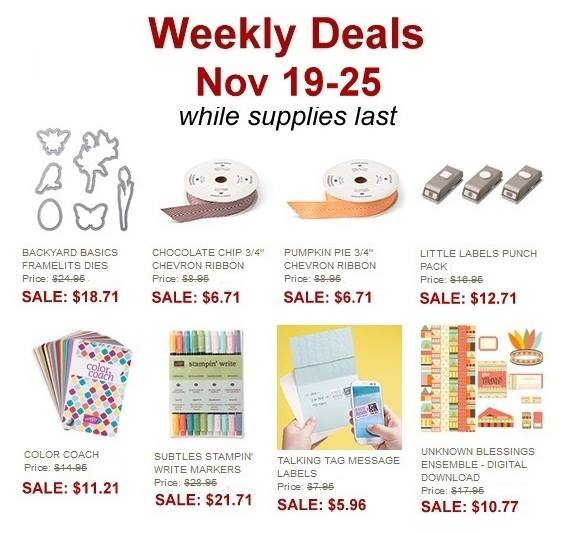 Backyard Basics Item # 129380
Discounted Price: $18.71
Pumpkin Pie Chevron 3/4″ Ribbon Item # 130015
Discounted Price: $6.71
Chocolate Chip Chevron 3/4″ Ribbon Item # 130014
Discounted Price: $6.71
Color Coach Item # 130118
Discounted Price: $11.21
Little Labels Punch Pack Item # 126881
Discounted Price: $12.71
Stampin' Write Markers Subtles Item # 131263
Discounted Price: $21.71
Talking Tags Item # 129723
Discontinued Price: $5.96
Unknown Blessings Ensemble Item # 131311
Discounted Price: $10.77
Special Note:
If you're reading this blog post in your email box … the Holiday Sale begins Wednesday November 20th. The Doorbuster items are only on SALE ….. November 20th. Please download the Flyer I've attached … just remember but you may need to visit my blog to do so.


Personal Note: Dave and I returned home tonight after celebrating our 22nd anniversary in Napa. This was our 2nd year in a row to celebrate it in California and I think I've convinced him we should return every year.
Over the next couple days I'll get caught up on email and if you have an urgent matter please feel free to email me again.
Thanks & have a good night!!
Hostess Code: 7UMF7HV4