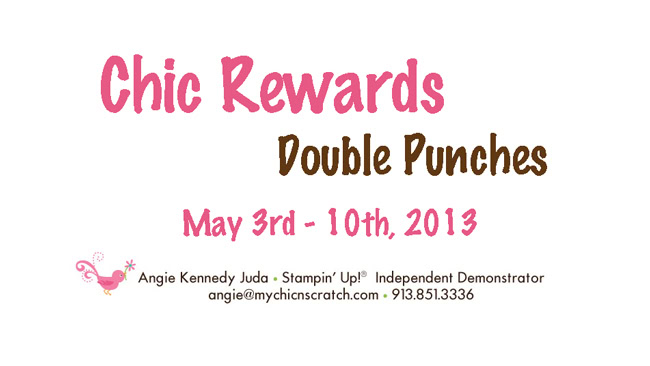 I'm excited to announce that my Reward Punch Card has been changed to Chic Rewards and I'm offering Double Punches from May 3rd – May 10th, 2013 on all your Stampin' Up! orders.
The nuts and bolts of it …… stays the same and you can continue to use the old tracking sheet until you're ready for a new one.
Click on the links to check out my Preferred Customer and Chic Rewards.
If you have any questions please don't hesitate to contact me.
Coming next week …
I'll announce the winner for the April Bundle.
Share a picture of the May Bundle.
The New 2013 2014 Stampin' Up! Catalog will start shipping!
Personal note:
This past week was another crazy one …. and I was not able to work as many days as I'd like. Chase has had some pain where they removed the tumor so we've had an appointment this week and several more coming up (cat scan is next week). I'm a little worried but it could be the Scoliosis … we see that doctor in July.
Congrats Charlene Carlos!!! Your name was drawn to win the Mystery Hostess Benefits…. you get $40 in Free Product of your choice.
Stampin' Up! Catalog
Special Note: A preferred customer means you've spent a minimum of $50 with me in the past year (12 months). Placing an online order through another demonstrator electronically removes you from my Stampin' Up! customer list. To reactivate your Chic n Scratch Preferred Customer status, simply place a new order through my Stampin' Up! website.
Click on the link below to order your copy today if you are not a preferred customer (The catalog is free and the cost is for Priority Mail Shipping.)
[cart price="5.05″ title="2013/2014 Stampin' Up! Catalog" url="http://www.mcssl.com/SecureCart/ViewCart.aspx?mid=10FBA7E1-89F4-4BDD-B7B7-A804DAD4CEB0&sctoken=04891555ded04a89b1e0046cf0804284&bhcp=1″]Catalog includes a Wish List and a In Color Bookmark[/cart]
Thanks & have a great weekend!!
NEW Hostess Code: FH2MUNWP