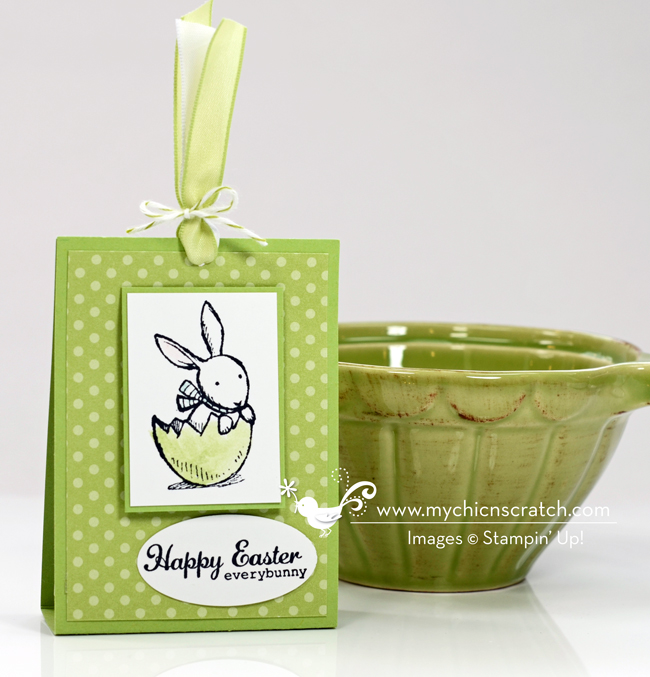 My project today is the Everybunny Easter Treat and it includes a small bag of Easter Skittles.
The most often ask question the past two weeks has been "what Designer Series Paper am I going to use for Easter?". My answer is .. I'll use a combination of Sycamore Street and the Subtles Collection Designer Series Paper Stacks .. I may even use the Brights.
I Love making these little treat holders and it's a tradition that I use them every year (usually for Halloween) … because they're so affordable to make. One Sheet of card stock will make three of them!
I used Certainly Celery and cut it at 8-1/2 x 2-3/4 and added a piece of card stock that measures 2-1/2 x 3-1/2.
I colored the bunny from the Everybunny stamp set with the Aqua Painter .. using Certainly Celery, Baja Breeze and Pink Pirouette. I think I'll make another using Wisteria Wonder (another color that's retiring soon …. I'll miss it!).
Click here if you'd like to watch a video tutorial for an older version of this Treat Holder.
Next subject .. YES.. Miss Bella was on the Weather Channel last night and this morning!! I missed it both times .. but it was her. I filmed a few videos yesterday and submitted it to them and can you believe they showed it? She's so stinking cute!!
Here's a picture of her … she was so tired she couldn't move off the towels when I finished drying her off! The funny thing is .. now she comes in and just stands on the towel waiting for me to get those snowballs off her (not an easy job!!!).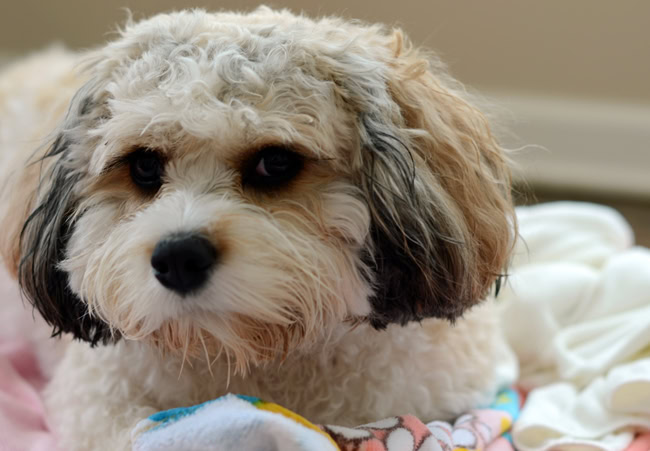 Click here if you'd like to watch her video on iWitness.
Thanks for all the well wishes yesterday!! I feel much better and Thank God Dave was home to shovel the foot of snow we got yesterday!! Today we're going to get Brooke from school and help dig her car out of the parking lot. I'll share some pictures on my blog this weekend.
Here's the supply list for the Everybunny Treat Holder:
Stamps: Everybunny – 122705 Wood – 122707 Clear
Ink: 101406 Black Stazon, 126958 Certainly Celery, 126961 Baja Breeze, 126956 Pink Pirouette
Card Stock: 105125 Certainly Celery, 117152 Subtles Designer Series Paper Stacks, 100730 Whisper White
Accessories: 109070 Whisper White Taffeta Ribbon,119963 Certainly Celery Taffeta Ribbon, 125572 Lucky Limeade Bakers Twine, 103954 Aqua Painter, 104430 Stampin Dimensionals, 119855 Large Oval Punch
Thanks & have a great weekend!!