It was just six years ago today that I started my Chic n Scratch blog.
It's been an amazing journey filled with so many twists and turns.
Who knew …six years later … what can I say ….some days I find it hard to believe!!
It's an emotional week anyway .. Brooke is leaving for college on Friday and I've cried every day for weeks. I know … she's only moving 30 minutes away. My answer to that is …she's still moving. I will not know if she's in bed safe and sound..she won't be in my room every night giving Miss Bella hugs and kisses and visiting with me …no more watching Big Brother together (and laughing really hard at those crazy people). And she's just like me …independent and strong and wants to find her own path. (I always say I learn everything the hard way … by trial and error.) I love that about her ..but it also scares me!! I will miss her more than I can say! Brooke if you ever find your way to my blog .. I LOVE YOU!! (Chase I LOVE YOU too!!)
Sorry I totally went on a lane swerve there …. I could delete it but most of you already know I'm an emotional person …it's what makes me who I am.
So ….back to my Blog Anniversary……THANK YOU TO ALL MY FOLLOWERS!!! & most especially for sticking by my side for the past 16 months (I know it hasn't been easy).
I'm going to give away a………
Ghoulish Googlies Designer Kit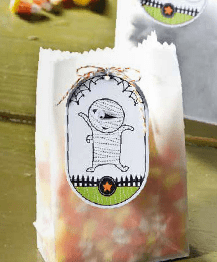 All the supplies needed to make ten of these treat bags …. or make 10 of the bags you'll see on Week #1 of my 12 Weeks of Halloween.

HERE ARE THE MECHANICS OF THIS Blog Candy:
WHO CAN ENTER?
Anyone who lives in the US can enter to win.
One entry per person.
Leave a comment on this blog post or on my Chic n Scratch Facebook page.
GIVEAWAY PERIOD & ANNOUNCEMENT OF WINNER
This blog candy starts August 14, 2012 to midnight.
The winner will be picked by a random generator.
Winner will be announced on August 16th on my blog post.
A confirmation email will be sent (please be sure to include your correct email).
p.s. Two posts today ..check back for my 12 Weeks of Halloween.