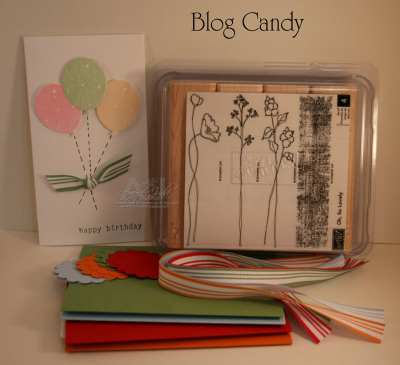 Good morning!!
Giving away Blog Candy is always soo much fun!! And today, not only am I'm giving away what you see in this picture, but I'm also giving away 3 months of my Birthday Card Club/Kit.
To enter your name, all you need to do is post a comment (if this is your first time and you need help, let me know). I will draw a name on Monday at noon!! If you happen to win & you've already purchased the Birthday Card Club/Kit, not to worry, I'll just extend it!!
Here's the details of what you're getting…Oh so Lovely stamp set, 4 sheets of cardstock 8 1/2 x 5 1/2, 4 sheets of white cs (4 1/4 x 5 1/4), 12″ of all four colors of the new Stampin' Up! Striped Ribbon, 8 Scallops, my Happy Friday card using the new Birthday Whimsy stamp set & 3 months of my Birthday Card Club/Kit.
Thanks for stopping by and Good Luck!!!
What's next? Over the weekend, I'll share some lovely cards given to me. And next week the Nugget Purse Tutorial!