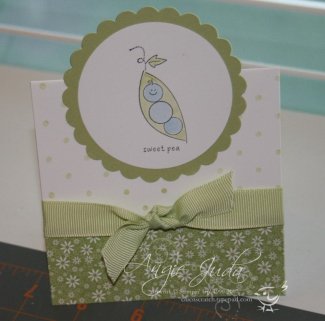 Good morning! Can you believe I'm awake at 6am? Today is Chase's first day of High School and the bus arrives at 6:45….I told him that it should be against the law to be up this early. He just laughed at me.
I did alot of stamping & cleaning yesterday, I'll be showing you more of my goodies over the next couple days. Don't forget if you want to view all the organizing photos there's an album to the right…….
Have a great day and Thanks for visiting!!
Stamps: Event Full & Polka Dot Background Ink: Black Stazon, Celery & Bashful Blue Cardstock: Whisper White, Celery & Prints Designer (Celery) Tools & Accessories: Aqua Painter, Circle Cutter & 5/8″ Grosgrain Ribbon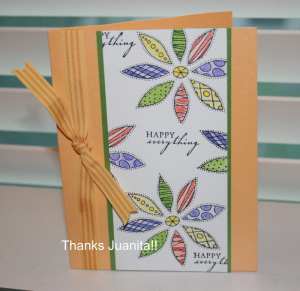 Isn't this card beautiful? You should see it in person!! The yellow cardstock is shimmery, much like our shimmery white….very cool!! Thanks Juanita!!! If you're reading this….where did you get that cardstock?
I purchased these wall units at Walmart, many moons ago…..haven't seen them in years!! But they work perfectly to store my Reinkers, Sponges, Daubers & Stampin' Spots. This is one of the best systems I have in this room…..it totally works!!!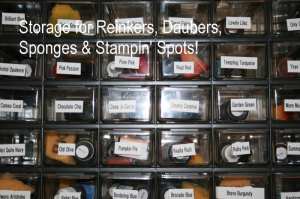 No one has ask yet, but the labels are made with my P-Touch…couldn't live without that baby!!! I've had one for 20 years and gone thru 3 of them!!