We Snailed it! Yesterday was our 1st official Chic n Crafts & Games event (Bingo) and we had so much fun!!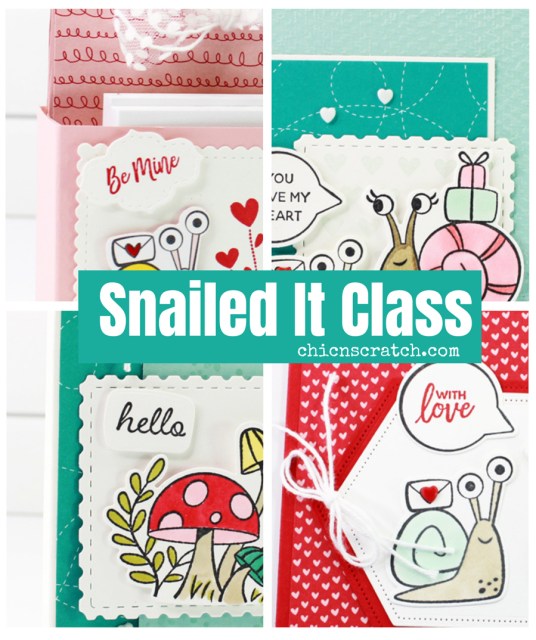 Everyone was so patient and so kind, thank you soooo much!! We had a couple hiccups along the way but for the most part it went off without a hitch.
We ended up with two recordings because my laptop ran out of juice – I needed a USBC adapter that would hold two USBC's (I know that just sounds confusing).
Heres' the Bingo Event on my Chic n Scratch business page.
Here's the Bingo Make n Takes.
We'll eventually get these videos on You Tube (and edited slightly).
If you purchased the Snailed It Event – Your Class Instructions were emailed this morning with an attachment. Check your inbox and if you can't find them email us by clicking here.
If you did not participate in our event but would like the instructions, we are selling them for a small fee, CLICK HERE.
Bingo Event Special Host Code
Host Code: WJCST2HD
Dates: January 23rd – 26th
Place a minimum order of $50 (before tax and shipping) using Host Code: WJCST2HD
Receive a FREE Embossing Folder of your choice
Special Note: Backordered Embossing Folders are not eligible. If you've chosen one on backorder we will notify you and ask for another selection.

We gave away over $600 in prizes yesterday and here's a picture of some of them.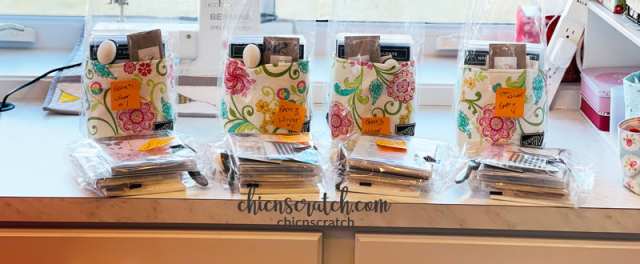 Here's the Supply List
Stamps:
Ink
Paper
Other
Hey Chick – Hey Birthday Chick

These items will be available on February 2nd, here's the item numbers:
Hey Chick Bundle – 158627 $44.00
Hey Chick Stamp Set – 158190 $17.00
Chick Dies – 158199 – $32.00
Hey Birthday Chick Bundle – 158631 $43.00
Hey Birthday Chick Stamp Set – 154644 $21.00
Birthday Chick Dies – 158200 $27.00
You Tube
Please follow me on You Tube and help me reach my goal of 100K subscribers!
When you get to my channel click on subscribe (it's free).
Click on the bell too if you would like to get notifications when I post a new video.
Join Stampin' Up! & Receive a FREE Gift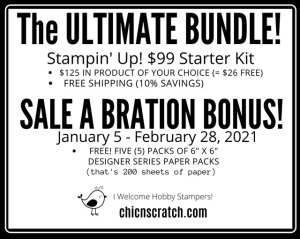 For $99 (plus tax) here's what you get ….
$125 worth of product for just $99. Your choice of Stampin' Up! product!
FREE Gift – Five packs of Designer Series Paper (200 Sheets)
Business Supply Pack (catalogs)
Free Shipping on the Starter Kit
Be a member of our amazing Chics Paper Ink group!
20 percent off all your purchases – no selling is necessary

Stampin' Anonymous Tutorials
You have three ways to get this amazing tutorial….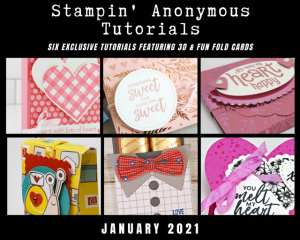 Reminders
Free Stamps or Dies with Chic Rewards – Earn a Free Stamp Set or Dies by earning one Chic Reward for every $25. Click HERE for details on you can earn a Free Stamp Set or Dies.
Stampin Rewards from Stampin' Up! All orders of $150 or more receive free hostess dollars to spend on anything you'd like in the Stampin' Up! Catalog. Redeem the Stampin' Rewards at the time of your online order. Keep track of these orders and earn a free stamp set or set of dies with our Chic Rewards program.
Have a question? Please use our help desk email when you have a question.

Thank YOU for stopping by, have a great day and stay healthy!!
Click HERE to shop online – OrderwithAngie.com