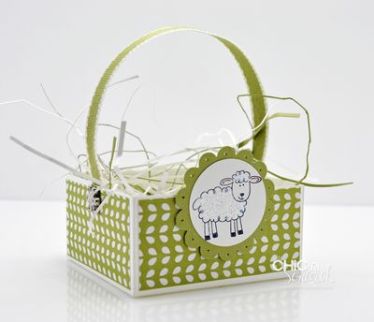 This is the darling Easter Basket we made on UStream Saturday.
We used the Nursery Suite Specialty paper with the Pear Pizzazz Poly Stitched Ribbon and we added the Designer Flower Brads to the side.
I colored the lamb with the Pink Pirouette & Basic Gray Marker and added Dazzling Diamonds Glitter to his body & head.

I love the little lamb…and you're going to see him again real soon!! To stamp him/her without the words…I just used a piece of Scotch tape and covered it up…applied ink to the stamp..then removed the tape. Much like using a post it note….except sometimes the post it note sticks to the ink pad…you know what I mean?
Click here if you'd like to see how to make an Easter Basket on UStream (one hour process and lots of chatting) or click here to watch the 10 minute version on my Chic n Scratch Live! site.
Have a great day!!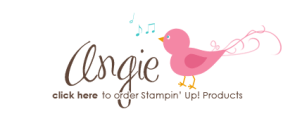 p.s. Congrats Susan Martin ……. you've won the Blog Candy posted on Friday. Please send me an email with your address and I'll ship your goodies out tomorrow.
Here's Susan's comment:
Love Love Love you great ideas. Gosh another birthday. Oh you lucky devil. Yeah, Right! like we all like to know we're another year older. yippie. . . .
Keep on chic-n-scratching with the ink and stamps.
Happy Pre-Birthday.
Susan
P.S. Love the blog candy package.
Commenter name: Susan Martin

Litttle Lambs stamp set – Wood #117030 – Clear #120525
Black Stazon #101406
Basic Gray Marker #120966
Pink Pirouette Marker #120969
Pear Pizzazz Poly Stitched Ribbon #119265
Dazzling Diamonds Glitter #102023
Designer Flower Brads #112579
Nursery Suite Speciatly Paper #117165
1-3/8 Circle Punch #119860
1-3/4 Scallop Circle Punch #119854
Paper Piercer #116631
Tabletop Trimmer #106959
Powder Pals #10297
Whisper White CS #100730
Pear Pizzazz CS #119795
2-Way Glue Pen #100425