Paper and Ink Sketches 9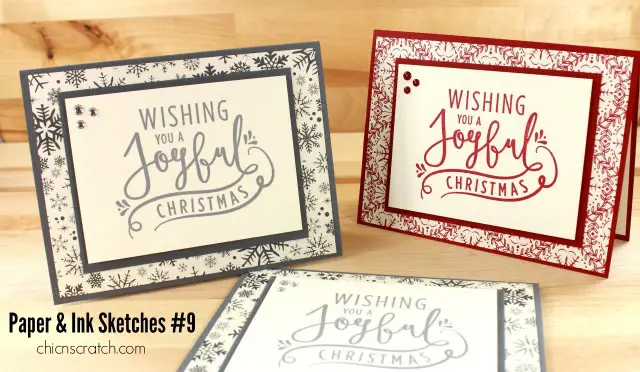 Here's the card I created using Paper & Ink Sketches #9.
I made it with the Wonderful Year Stamp Set with the This Christmas Designer Series Paper.
The first card was made with Basic Gray (using the colors in the DSP) and then decided to also make it with Cherry Cobbler. I think I like the Basic Gray best … but not totally sure! You also use the back side of the paper using more traditional Christmas colors.
Here's a picture of Sketch #9 ….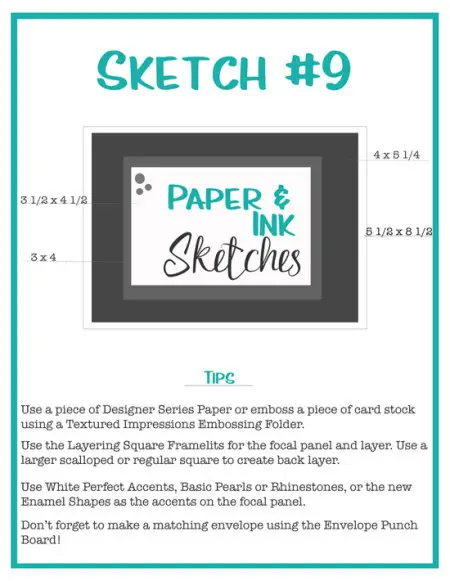 Click here to watch the You Tube Video on how to make the Paper & Ink Sketches #9 Card with Stampin' Up! Product on Chic n Scratch.
Click here to download the Inspiration Sheet.
Paper & Ink Sketches Details:
Paper and Ink Sketches will run from July 2016 – June 2017 (24 Sketches).
Sketches will be posted here on Chic n Scratch the 1st and third Wednesday of every month.
Each Sketch will have a FREE PDF without measurements and another PDF with measurements.
Feel free to use the Sketch and share your creation on my Paper & Ink Sketches with Chic n Scratch Facebook Group (please read the rules before posting). Click here to join.
My Chics Paper Ink downline will be participating and I expect you will see these Sketches on other social media outlets.
Click here to see Paper & Ink Sketches 1 – 8.
Stampin' Up! Supplies
Thank and have a great day!
p.s Tune in tomorrow for my first Simply One Sheet!
Promotions
Hostess Code: PM63XJJE
If you would like to order Stampin' Up! product used to make Paper and Ink Sketches 9
…. please click on our signature below.