Chic n Scratch Stamp Studio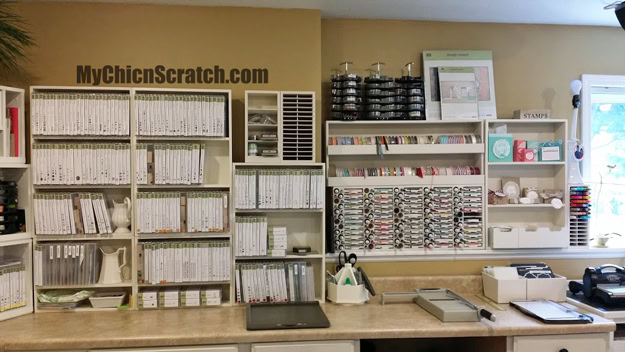 I'm happy to be sharing with you my re-organized stamp studio!!
But before I go into all the details …… I have to say that this process has taking me a long time. I have gone back & forth on do I want my room pretty … or do I want it functional? And this time I think I got both!!
Here's the story ……..
I was using Ikea shelves to store my DSP. (Click here to view my old Stampin Studio photo gallery.) But … it was on the other side of the room. Don't laugh .. walking 8 feet is not that far … but when you're in the zone to create … 8 feet is all it takes to see a squirrel and go chasing after it! So, I ordered two paper units from Stamp n Storage (they fit in the Ikea shelves).
Let's just say that was the straw that broke the camels back! What I mean is … when they arrived …the quality was so amazing I knew I was on to something. But I had to pace myself (two kids in college…etc) it took a while to gather all the pieces.
Several months later I can finally show you …..
Here's a quick video tour .. ..I did my best to not move the camera around a bunch!
I ping pong back and forth on where I create … the picture below shows both stations.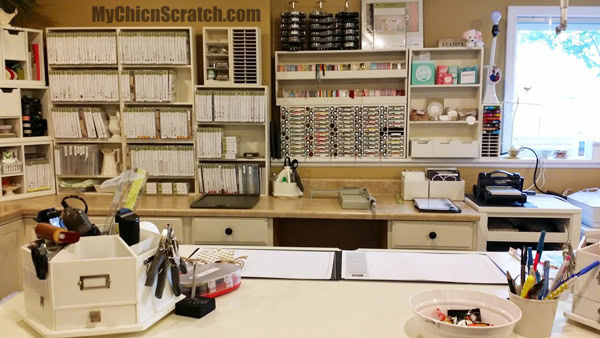 Next up Ink Pad, Ink Refill and Marker Storage … along with the Ribbon Shelf.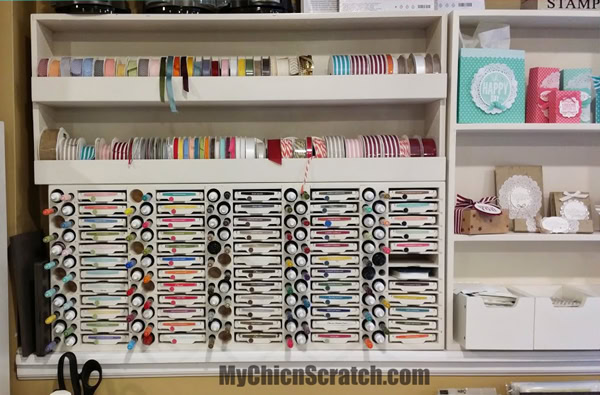 What I love is that everything is in one place… and all the Ribbon we carry .. is on one shelf!!
The Stamp Case Shelf on the right will look different in a month … I like having my Dimensionals and Rhinestones at my fingertips .. but those drawers go else where … I just borrowed them until I can find something else.
The next picture is how I organize my Embossing Folders and Framelits. I have used three different systems for the Framelits and I have to say .. this is it! The Framelit container sits on the corner of my Big Shot Station and having them in alphabetical order is just the ticket!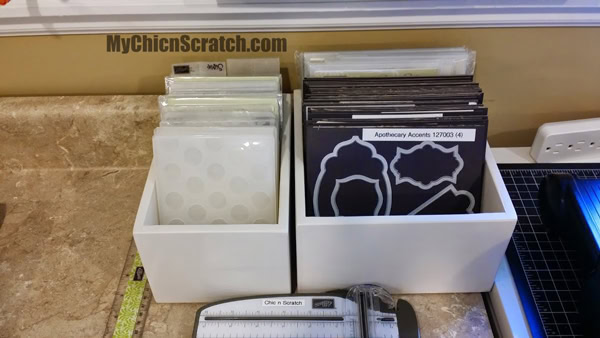 Update August 7th: My Big Shot Station is from Home Decorators and it's the MARTHA STEWART LIVING™ CRAFT SPACE CART WITH PULL-OUT TRAYS, click here to view it.
Here's a picture of my Big Shot Station ….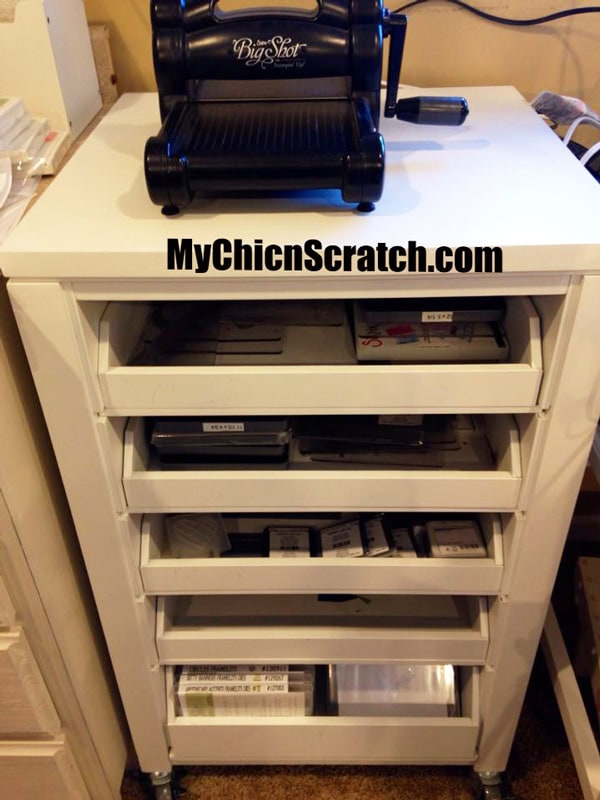 You don't want to know how long it took me to get the Card Stock Units to look pretty!!
I'm not sure about what I have on top … but I decided that I need some pretties to make me feel at home. I'm thinking ….. I need to head to Olathe Glass to find something new!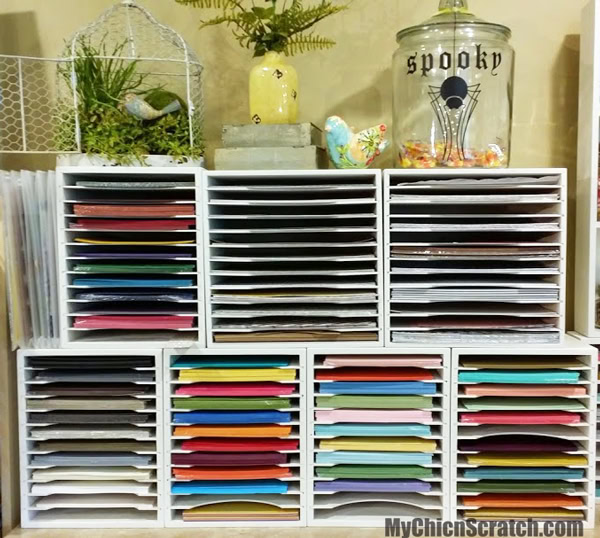 The picture below is of my Stamp Sets .. and I did the math wrong when ordering .. I have two more units on the way.
I have all the main Stampin' Up! catalog stamp sets on the two shelves to the left .. and all the Holiday Catalog stamps on the right. I like to keep all the Holiday Catalog product at my fingertips! (Empty shelves will be full before you know it!)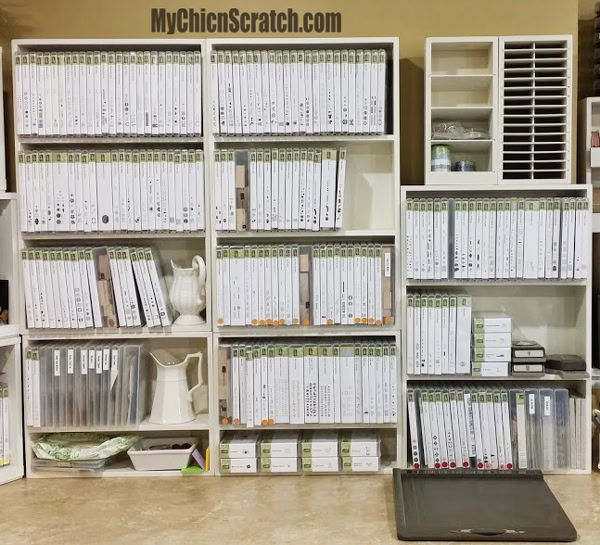 Here's a picture of the Blendabilities Shelf before it was painted.
Update August 7th: Speaking of paint … All my units were spray painted with a color to match my existing furniture (I gave my painter a knob from one of my desks). I'm not sure of the color name …. but it's safe to say it matches my Pottery Barn desk.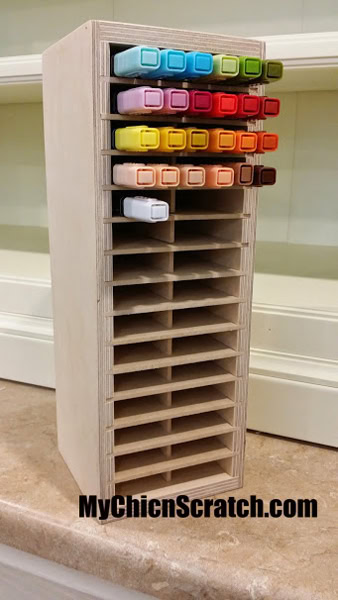 Washi Tape storage is actually a Punch Unit. I like my current set up for punches so it works perfect for the Washi Tape.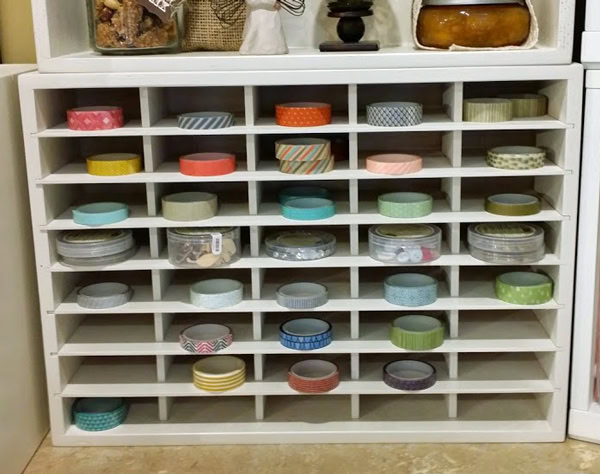 Project Life Card Collections
The Pocket Storage unit was a last minute purchase and it's current home is on my Project Life desk…. I will share those pictures soon!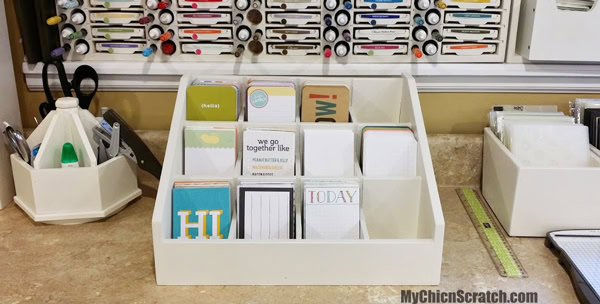 The next two pictures are not pretty .. but it's the system I use and it works very well!
Below my desk is a Drawer Unit that I purchased from Organized Living (before they closed). I keep all my card stock scraps and punches in those drawers. Like I said it's not pretty but it works really well!!
I also have a drawer that holds only whisper white card stock scraps .. I can't tell you how many times a day I reach for a piece of card stock from that drawer.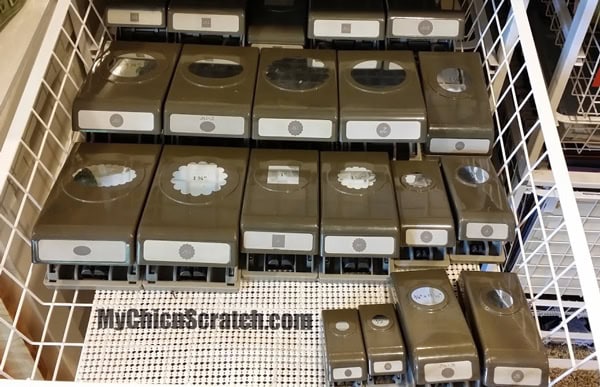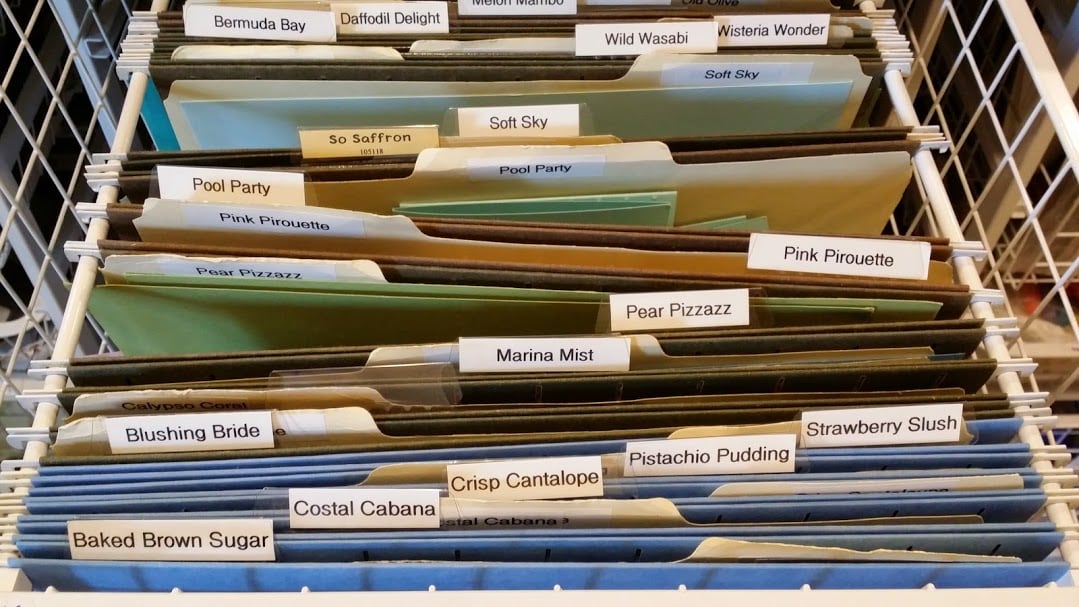 What my room lacks right now is a display of cards and 3D projects .. I'm thinking .. the Ikea shelf that held my DSP … might be it's new home … we shall see!
The other side of my room was shown to you a few years ago and it's changed a little .. but not much.
Thanks & have a great day!
p.s It's a lot to look at … in fact every time Dave comes in my office he says "what can you get rid of" … as you can imagine ….. I either laugh or tell him to get out.
Hostess Code: 4YYZFS29
Use this Hostess Code and receive a free gift! (Please do not use the Hostess Code if your order is $150 or more). Click here to learn how to enter the Hostess Code.