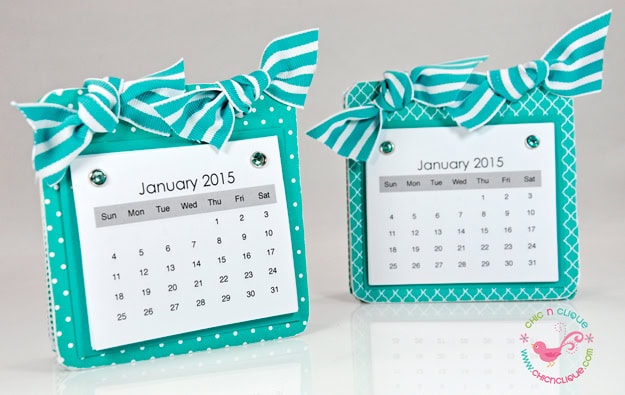 My project today is the Coaster Calendar 2015.
But before we talk about the Coaster Calendar I need to mention that if you are a member of Chic n Clique … you get the 2015 Calendar file free. It was posted last night and can be found in the Instructions Forum (as well as the Videos forum).
Now back to the Calendar … I used the Brights Collection of the DSP Stacks and I choose Bermuda Bay this because I LOVE the Striped Grosgrain Ribbon!! But now that I have my hands on some Holiday Catalog product .. I may have to make another one.
Stampin' Up! supply list:
Ink: Coastal Cabana Blendablilities 131000
Card Stock: DSP Stacks (Brights) 130134, Bermuda Bay 131197
Accessories: Rhinestones 119246, Brad Bases 132293, Bermuda Bay Striped Grosgrain Ribbon 134551, Glue Sticks 130654, Paper Piercer 126189, Crop a Dile, Sanding Block
Click here if you would like to purchase the 2015 Calendar File and Coasters.
Click here to watch a video on how to cut the calendar. This year the instructions are not included in the pdf … but you can find them HERE. (I had several people tell me they kept forgetting to not print the last page … so this year I made it easier.)
Chic n Scratch Live!
Update 7:38pm ….. Event was unsuccessful … I tried to get an internet connection for over an hour and it's not working. I'm very sorry!
Tune in tonight at 7pm (central time) for a live stream on Google Hangouts … aka You Tube. If I'm not able to get my camera to work … I'll switch over to a webcam. If all goes well you can either find the video here on my blog .. at the bottom of this post … or on my Chic n Scratch You Tube Channel. We figured out the other night that leaving a comment (on the live video) is the chat box.
Thanks & have a great day!
p.s. Coming next week … Project Life by Stampin' Up! If you a fan of my Chic n Scratch Facebook page I posted a picture of my Pocket Pages Guide this morning …. I will be sharing that template with all of you … for free!
Hostess Code: 92P62TPU
Use this Hostess Code and receive a free gift! (Please do not use the Hostess Code if your order is $150 or more). Click here to learn how to enter the Hostess Code.