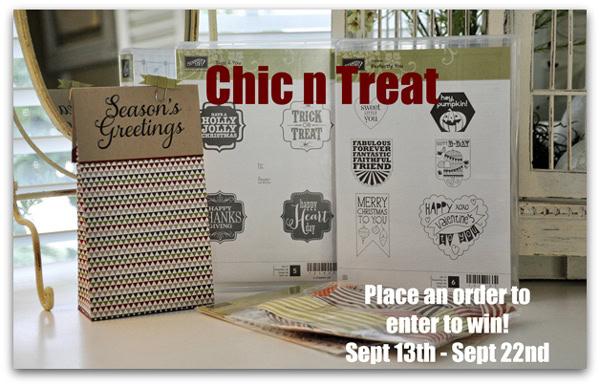 Are you ready for another Chic n Treat?
The winner will receive the following items:
Tags 4 You Stamp Set
Perfectly You Stamp Set
Rhinestones
Holiday Catalog Bag
Ribbon Salad (aka ribbon scraps)
Here's how it works …..
Anyone that places an online order with me on my Stampin' Up! website between Sept 13th – Sept 22nd will have their name entered to win.
To place an order all you have to do is click on my signature in this blog post or click on the Shop Now button.
I'll announce the winner on Tuesday September 24th.
Here's some reminders for you …
Magnetic Platform is back #130658
Clearance Rack
Check out the new items! Click here to see a video on how to find the Clearance Rack on my Stampin' Up! site.
Congrats Darlene Fahrenkrug!! … you used the Hostess Code and your name was drawn to win $130 in FREE product of your choice (I've sent you an email).
Thanks & have a great weekend!
p.s. I'm out of my office …. attending Founders Circle and I have very limited access to email …… if you have an urgent matter please use "urgent" in your subject line and I'll check for those at least once a day.
If you'd like to see what I'm doing at Founders Circle … check out my Chic n Scratch Facebook Page and click the "Like" button.
Hostess Code – YQHZTQWW