Good morning!
Do you ever have days you just can't make a decision? That's me with this jar….I used the Twick or Tweet stamp set first….then I tried the Batty for you stamp set and then the Gobble Gobble stamp. Since I couldn't decide which I liked best I'll just show you all three 🙂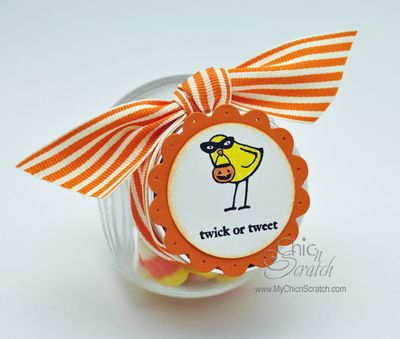 I filled each jar with Candy corn but I'm thinking I need to go back to the store and get some of those bite size candy bars.

The last one needs something….but I'm not sure what. I think I need to change up some colors….maybe use the Chocolate Ribbon instead of the Pumpkin.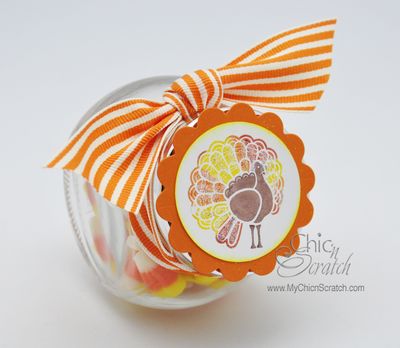 Can you see I added some Dazzling Diamonds Glitter to make him sparkle?
Supply List:
Twick or Tweet Stamp set #116497
Batty for You Stamp set #116576
Gobble, Gobble Stamp #116535
Pennant Big Shot Die #113483
Big Shot Die Cut Machine #113439
Extended Cutting Pads #113478
1 3/4 Circle Punch #112004
1 1/4 Circle Punch #104403
Scallop Circle Punch #109043
1 1/4″ Striped Pumpkin Pie Grosgrain Ribbon #115616
Black Stazon Ink #101406
Pumpkin Pie Marker #105115
Old Olive Marker #100079
Close to Cocoa Marker #100072
YoYo Yellow Marker #100050
Really Rust Marker #100073
2 Way Glue Pen #100425
Stampin' Dimensionals #104430
Dazzling Diamonds Glitter #102023
Paper Piercer #116631
Chic Stand
Ikea Jar
Printer Friendly Version – Download Candy Corn Jar
Have a great day & thanks for stopping by!!