Good morning!
I've totally neglected the Batty for you stamp set this year and I decided to break it out and get some Halloween treats made. My sister is coming to visit later this week and I'm trying to get some goodies made to send back with her.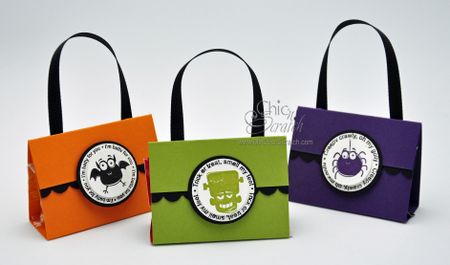 These treat holders are really easy to make and they hold all sorts of candy. A bag of M&M's, Skittles, Candy corn…etc. I made a video last year and if you'd like to see how to make this Halloween Treat Holder, click here to go there now.
Printer Friendly Supply List Download Batty for you treats
Have a great day!
p.s. Week four of my 12 weeks of Christmas will go out either tomorrow or Thursday.
p.s.s. Yes, I will share my photos of my Figgy Pudding Quilted Purse….just as soon as I get the handles attached….& I will make a video….just as soon as I make it with the Scallop Square Die. This will make you laugh….I find myself not wanting to cut my fabric the same way I stock pile my Designer Paper….what makes us do that?