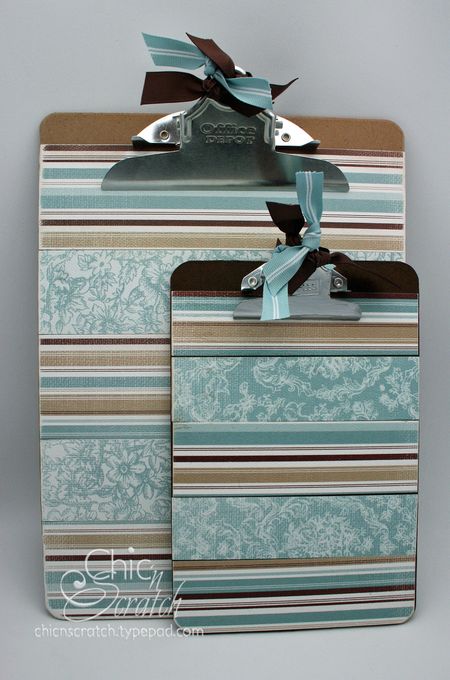 Hi, my video today demonstrates how to make one of these Altered Clipboards.
If you've never made one I encourage you to try it. I promise you'll love it!! I still have the first one I made ….many moons ago 🙂
The smaller clipboard has been Mod Podged and I demonstrated that in my video. The larger clipboard isn't finished and you can see how light it is at the top (once I apply the Mod Podge it will darken.
My video gives you three tips to being Bubble Free with Mod Podge. I'll be honest and tell you I'm not sure which tip is the key. I've only had bubbles once or twice and that was long time ago. In the video I stated that I would let you know if it developed bubbles….and ….it's bubble free 🙂
Try my tips and let me know how it turns out!
Don't forget to click on the HQ to view the video in higher quality.
Supplies Used:
Cardstock: Parisian Breeze Speciality Paper (2 sided) – Cut in 9 x 2 1/2 strips and 9 x 2 strips
Other: Chocolate Grosgrain Ribbon, Baja Breeze Striped Ribbon, Mod Podge, Bone Folder, Sanding Block, Scissors & Glue Stick or other adhesive
p.s. I have a contest embedded in this video 🙂
Click here if you'd like to place a Stampin' Up! Order.