Hi, I'm having some trouble with my videos on Veoh. I've spent the past few hours uploading my most recent videos to a new company and they are safe. I've also tried contacting Veoh and had no success. Sometimes you get what you pay for (Veoh was a free service). I'm going to pay for my service with the new company and I need a favor….can you let me know if you have any trouble with the new company? They have a 14 day money back and if it's not going to work I'd love to get my money back….ya know what I mean?
I'll post late again tomorrow…and I will be stamping….in fact I've warned everyone…I'm not leaving the house tomorrow…except to mail the 3-D Kit club projects 🙂 and I will try to get to the bottom of my emails too!
Here's a pretty card that Gigi sent me a while back…thanks Gigi!! the Bella Rose designer paper is my favorite and I love this card (and you know this size card is my most favorite)!!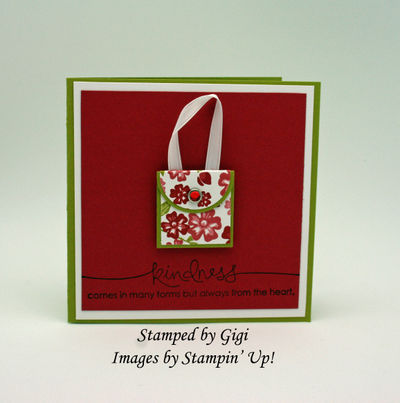 Goodnight!