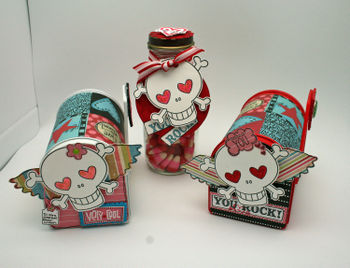 Good evening!!
I've been wanting to show you these projects all day! I had my Stampers Club this morning & Dana Newsom brought these goodies to show us (they're teacher gifts). Aren't they cute? Thanks Dana for bringing them so we could all see them and for letting me take a picture 🙂
She used the Just Jawing stamp set and the mailboxes came from the Target Dollar Spot.
Tomorrow's (Thursday) post will be late too…I have more appointments (bummer).
Thanks for stopping by…good night!
P.S. Chase got his full set of braces today and at Dr. Klein's office they had Connie's Cookies. Oh my gosh….I had never heard of Connie's Cookies….so if you live in my area…. Overland Park, Kansas ….you should try them….YUMMY! (I think I hear them calling my name.)