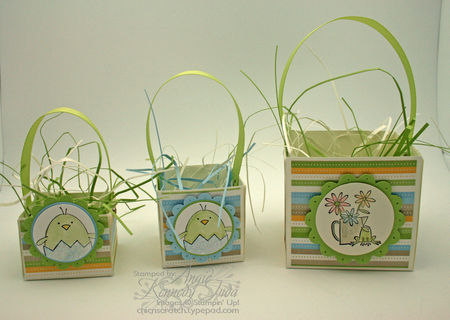 Good morning!!
Today's picture is of the boxes I made this weekend…(minus a few). I used the Good Egg stamp set & A Flower for all Seasons (love that set too). The designer paper is Delicate Dots & it's free during Sale-a-brationwhen you order $50 in Stampin' Up! product. (If you place an order, don't forget to add your free selection.) The Ribbon Bundle (also a Sale-a-bration item) has the Celery Poly Twill Ribbon, it's perfect for a handle…and you can tie a bow/knot with it 🙂
Extra info….When I've lost my mojo…I like to copy a project and then start tweaking it and that's exactly what I did Sunday. I started out with the little 5 x 5 box…and it was so cute I decided to make it a tad larger…& then I liked it & wanted to make it larger also. By the end of the day I had four boxes that looked the same…but yet different 🙂 I'm not sure how most people create…I discovered a long time ago I work differently. (For example…I had a habit of eyeballing everything…and when it was time to recreate my projects the measurements were a mixture of 8ths & 16ths….I try to measure first now.)
Thanks for stopping by!!