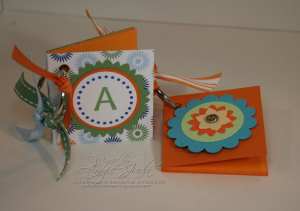 I'm back……..(isn't that what Jack Nicholson said in the Shining?) 🙂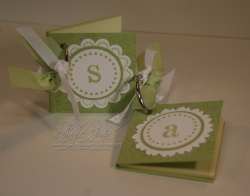 I couldn't resist making some larger post it notes (2 x 2) and I decided to re-film my tutorial so I could put both Post it Note Keychains on one tutorial. The really bright post it note keychain was made with the Jersey Shore Designer paper with the Short Order Alphabet set with the Think Happy Thoughts stamp set. As for the Pumpkin one…..I used the Stampin' Up! Scallop punch with the 1 1/4 Circle punch and punched the flowers with the Boho Blossoms punch. The Celery one was made with So Many Scallops, Think Happy Thoughts & Boho Backgrounds. If you'd like to learn how to make this new size of post it notes, head on over to my Stampin' Academy!
Thanks for taking part in guessing how many people joined my group during Sale-a-bration……the number was 12! Isn't that amazing? (that includes all five levels.)
So….. all you lucky girls that guessed 12…send me an email with your address….. Congrats!!
See ya tomorrow 🙂