Stampin' Up! A Little Foxy Cards and Critters #3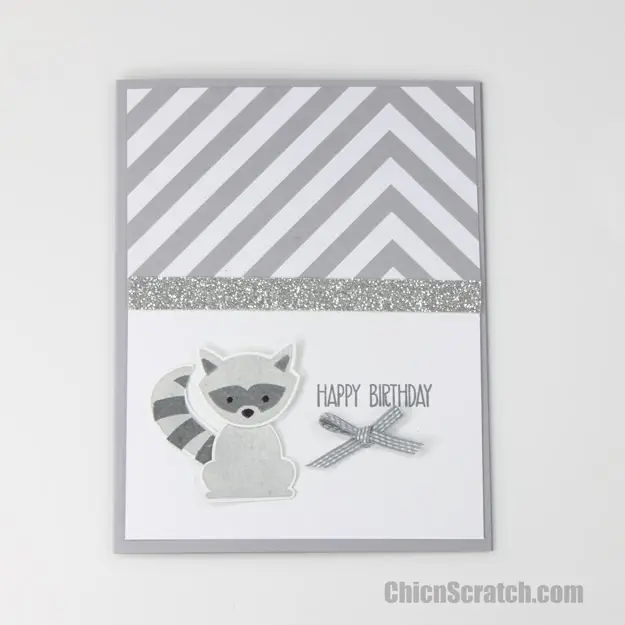 Today I'm sharing another card that's included in the free kit with a qualifying order.
I used the Foxy Friends Stamp Set along with the Sunshine Sayings Stamp Set.
Isn't the raccoon darling?
Every day this week with the exception of Thursday I'm sharing a Cards and Critters project using A Little Foxy Suite … along with a video.
Here's the details:
Place a minimum Online Order of $30 using the Hostess Code MRSDZUYT

Dates: August 8th – 22nd
Cards and Critters Kit will make 3 Cards and 3 Critters.
Kits will ship the 1st week of September.
Fine Details:
Multiple Hostess Codes can not be used when placing an order.
Earn Chic Rewards on every $25 ordered.
One Kit per order.
You will not receive the kit if you do not use Hostess Code MRSDZUYT.
Cards and Critters Kit Contents:
All the supplies included to make 3 Cards and 3 Critters.
+9 additional sheets of A Little Foxy Designer Series Paper.
3 Envelopes
Glassine Bags (full package)
You'll see a picture of the kit in the final video.
Click HERE to watch the You Tube Video on how to make the Cards and Critters Card Three with Stampin' Up! Product on Chic n Scratch.
Click here to download the Supply Sheet.
Stampin' Up! Supplies
Paper Pumpkin

For the FIRST time ever, FIRST-time subscribers can buy their FIRST month and get their second month FREE!
Offer Dates: August 11–October 10, 2016
Use promo code "BOGO" HERE and you'll pay the regular price of $19.95 and get your second month for FREE!
Fine Print:
If you subscribe with the promo code between now and September 10, you will pay full price for the September kit and get the October kit free. If you subscribe between September 11 and October 10, your first kit will be the October kit and you will get the November kit free.
IMPORTANT: Offer invalid if subscription is suspended or cancelled during the first two months. In other words, subscribers cannot cancel or suspend their subscription during their first two month.
After the first two months, the subscription will continue for $19.95 + tax per month (shipping included) unless cancelled or suspended.
This offer is open to first-time subscribers only.
Not valid on prepaid subscriptions.
Promotions
Thanks and have a great day!
Hostess Code: R6HJYCYD
If you would like to order Stampin' Up! product …. please click on our signature below.