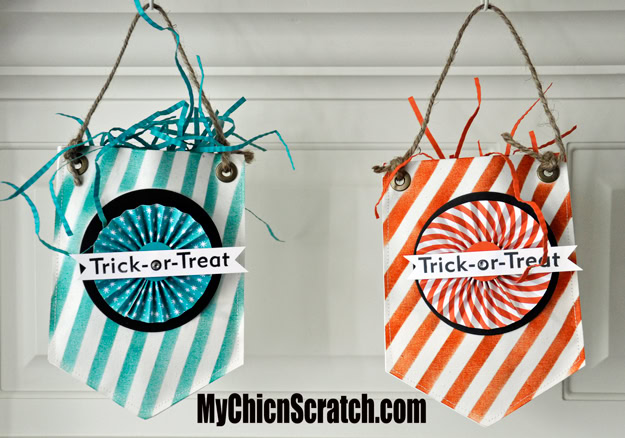 The Trick or Treat Banner Bag is the 6th project for the 12 Weeks of Halloween.
I made this bag using the Build a Banner Kit found on page 203 of the Stampin' Up! Catalog…..and truth be told I got this idea from Stampin' Up!
You saw me make a Banner with the Build a Banner Kit last year ….and this year I decided that a treat bag would be perfect!
To make this bag you'll need a sewing machine … or you can hand stitch the sides. I think when I'm at the Retreat next week I'm going to make a bunch of these!!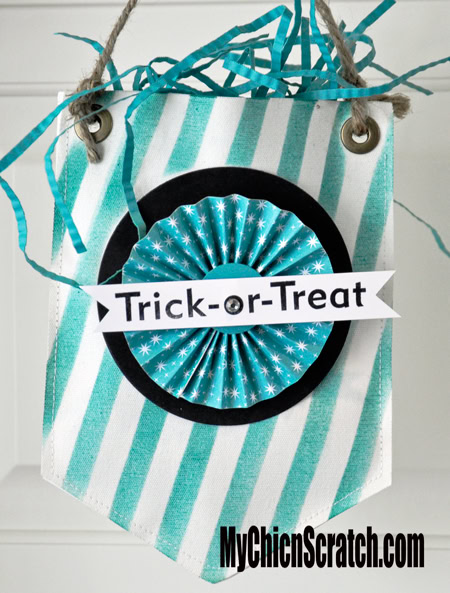 I used the Motley Monsters Designer Series Paper for the rosette and that piece measures 1-1/4 x 12 on the Bermuda Bay and 1-1/2 x 12 on the Tangerine Tango. (I think I like the smaller.)
To make the crinkle paper I ran it through a paper crimper twice and then fed it through a Mini Paper Shredder I found on Amazon.
Here's the video on how to make the 12 Weeks of Halloween Week 6:
If you're reading this in your email box, please click here to visit my blog to watch the video.
Click here to download the Instructions.
Here's a list of the Stampin' Up! supplies:
Stamps: Frightful Wreath 136816
Ink: 126946 Tangerine Tango, 132708 Memento
Card Stock: Motley Monsters DSP #135819 – Measures: 12 x 1-1/2 (or 1-1/4), Whisper White #100730 – 5 x 5/8, Tangerine Tango #111349 – Measures: 1" Circle
Tools & Accessories: 122334 Simply Scored Scoring Tool, 119868 1" Circle Punch, 125094 1" Square Punch, 133507 Build a Banner Kit, 133773 Sponge Daubers, 130911 Circle Framelits, 119246 Rhinestones, 126189 Paper Piercer, 104430 Stampin' Dimensionals, 113439 Big Shot, 130658 Magnetic Platform, 127853 Silicone Craft Sheet, 104294 Sticky Strip, Hot Glue Gun, Scotch Tape, Fabric Glue
Online Workshop
Tune in Friday night at 7pm Central time to attend my Online Workshop.
Big Shot Winner
Congrats Linda Brox!! Your name was drawn to win the first Big Shot Die Cut Machine (I sent you an email this morning).
Promotions
Thanks & have a great day!
Update: Congrats Buffy Scott!! your name was drawn to win the Trick or Treat Banner Bag. Click here to email us your mailing address.
Hostess Code: 2DRUW7JE
Use this Hostess Code and receive a free gift! (Please do not use the Hostess Code if your order is $150 or more). Click here to learn how to enter the Hostess Code.