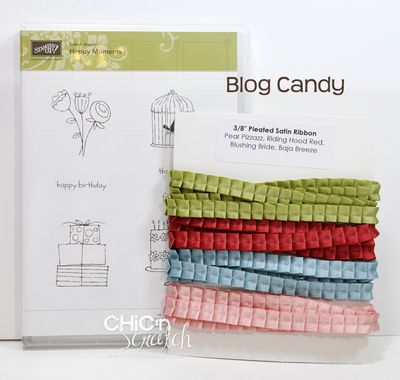 It's Friday and time to have some fun!!
I'm giving away this Happy Moments Stamp set along with this sample of the brand new 3/8 Pleated Satin Ribbon.
To enter to win ….all you need to do is leave a comment on this post …and you're welcome to share with us your New Years resolution (mine was to lose weight …I joined Weight Watchers on Monday).
I'll draw a name tomorrow during my live Stream on UStream at noon Central time. During the live stream I'll demonstrate the Framelits and show you some of the Occasions Mini Catalog product.
A quick note …..If you sent me an email regarding the Product Shares … the email I gave you isn't working … please try again and use angie@mychicnscratch.net (I'm using this email exclusively for Product shares so I can find them quicker). If you're waiting on instructions to pay … I'm working on those emails as soon as I'm done with this blog post.
Have a great weekend and I'll see some of you tomorrow!!