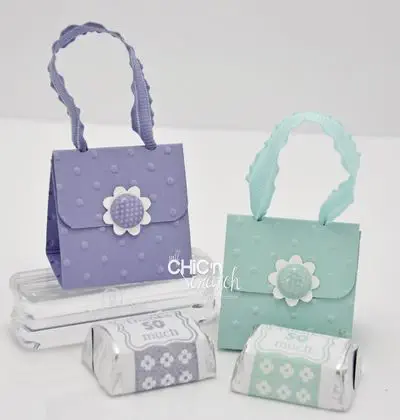 I love making these Hershey Nugget Purses and it's been a few years since I've made them.
I used the It's a Wrap Occasions stamp set with Wisteria Wonder & Pool Party.
I embossed the purses with the Perfect Polka Dot Embossing Folder and I added the the Designer Printed Brads to the purse by punching out a flower with the Boho Blossoms punch.
They're pretty simple to make and I bet you can't make just one!!
Tomorrow I'll load a video on how to make them …. I've tweaked it from my original version. Click here if you'd like to watch my my original Nugget Purse. (Warning ….it's one of my first videos and I was talking slower than molasses!!)
Here's the supplies I used on the Hershey Nugget Purse:
Perfect Polka Dots Embossing Folder #117335
Big Shot Die Cut Machine #113439
Designer Printed Brads #122940
Boho Blossoms Punch #119858
It's a Wrap Occasions Stamp set – Wood #123590 Clear #123592
Wisteria Wonder card stock #122922
Wisteria Wonder Ruffled Ribbon #122973
Pool Party card stock #122924
Pool Party Ruffled Ribbon #122975
Avery Labels #5160
1/18 Hole Punch
Thanks & Have a great day!!
p.s. Made it through yesterday & today is Chase's appointment with Dr. Horton. Thursday is my next appointment and I should get the results of my biopsy.