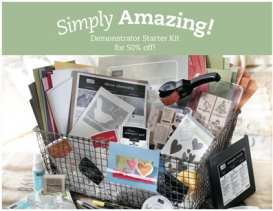 Starting today you can get $310 in Stampin' Up! crafting & business supplies for only $87.50.
From November 15-30, you can purchase either the Standard or Digital + Starter Kit at 50 percent off the regular price….. plus free shipping!
If you'd like to become a Stampin' Up! Demonstrator for the awesome price of $87.50 click here to sign up online….my password is chic. Or click here for more info.
Please feel free to contact me if you have any questions. My phone number & email is listed right up top in my banner 🙂