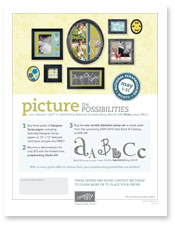 In honor of National Scrapbook Month Stampin' Up! is offering these three specials.
1. Free Designer Paper (buy 3 get 1 free)!
2. Become a Stampin' Up! Demonstrator for $75.00!
3. A brand new Alphabet stamp set at 20% off!
Click here to view the flyer.
In addition to the Stampin' Up! specials here's a list of my regular incentives:
1. Punches on your Reward Card (one punch for every $25). Click here for details.
2. Your name entered into a drawing for the Free Stamp of the Month. Click here for details. The May Free Stamp set is the Jumbled Alphabet. Congrats Nancy Green, you won for April!!
3. Join my team in the month of May and get a Free stamp set or a 3 Month Subscription to my 3-D Kit Club. To join my team visit my Stampin' Up! website and my password is chic (all lowercase letters). Click here to go to my Stampin' Up! website to sign up now.
Fine details:
*Designer Paper special includes the Speciality Paper (for example the Parisian Breeze I used on my Bind it All Post it Notes) & 12 x 12 Textured Cardstock.
*$75 Starter Kit includes the following: (you can subsitute the items in your kit for equal or lesser value)
Schoolbook Serif Alphabet stamp set* $42.95
Simply Scrappin' Petal Party $19.95
Earth Elements Assorted textured card stock (12″ x 12″) $11.95
Whisper White Craft Stampin' Pad $7.50
Business Supplies
*My Reward Card program has been improved, please check out how to transfer your punches to your new card by clicking here.
Thanks for stopping by!
p.s. I have another video I'm loading and will post again later 🙂
p.s.s. Here's a picture of the Jumbled Alphabet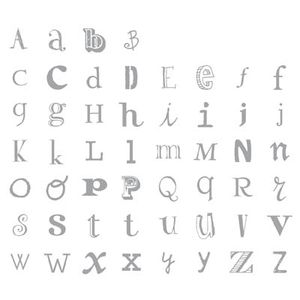 And a picture of my Reward Card (can be found if you click on this button

on the side of my blog)