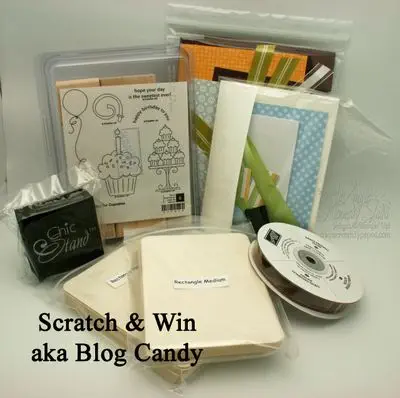 Hi, here's my Scratch & Win Goodies 🙂
It includes: Crazy for Cupcakes stamp set, one Chic Stand, 10 Med Weight Rectangle Coasters, 10 Heavy Weight Rectangle Coasters, one roll of the chocolate alpine ribbon & the March & April 3-D kit club projects. (Videos are available to show you how to assemble your kits).
To enter to win, all you need to do is leave a comment on this post. You could tell me that you read the details of my Feed issue or you can tell me something random…..please make it positive…not sure I can handle any negative stuff right now.
I'll explain the FEED issue again….but if you want to read the whole story you can click here. If you would like to receive my updates in your email. Please click on the words "Subscribe to Chic n Scratch by email" right under my newsletter sign up box, upper left corner of this blog. Afteryou click on those words, you will enter your email…and then you'll confirm it. No pressure to sign up….but I've heard from so many people that I disappeared…I'm here ……it's just Feedblitz stopped working.
Thanks for stopping by…Good luck!
p.s. I'll leave this at the top until I draw a winner on Sunday 🙂