Good morning!
Stamp Club is today & since I haven't had a chance to stamp in the past few days…. I decided to offer another Scratch n' Win aka blog candy 🙂
I won't make you jump through hoops this time 🙂 …..just leave me a comment and I'll draw one lucky winner tomorrow night at 10pm (Thursday, Dec. 11th).
The winner gets a Free Holiday Class Kit. I had a few extra & I'm giving one away. I'll mail your kit Priority Mail….. & email you the pictures & instructions.
Good luck!
Here's a picture of the projects you can make with the kit (food items are not included).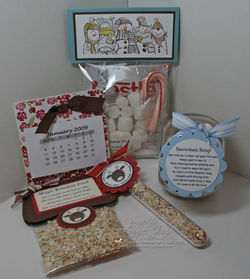 p.s. update on the Recipe book….I've pretty much decided I want to make one..but I can't fit it in this month. I have a few girls that are working with me on it and once we have more details… I'll let you know.
If you haven't been to my blog in the past few days…be sure to scroll down to see the current specials and the Retired Stamp List.
Have a great day!