Good morning!!
I hope you've enjoyed a weeks worth of projects made with the Country Living Holiday Collection Kit!! Today is the last project and it has a funny story.
I was struggling with the last project and wasn't sure what it was going to be…..and then I looked over and saw the present that Jennifer brought me…I was about to tear into it and start eating and it occurred to me that the word "Enjoy" would go perfect with this gift!!
See how beautiful it was when Jennifer gave it to me….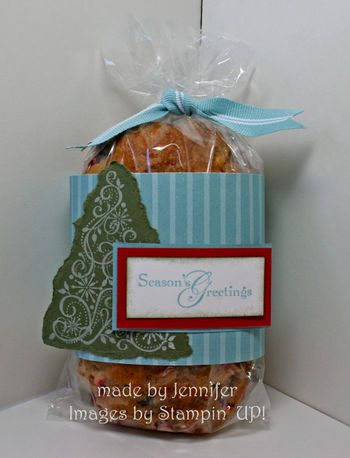 Thanks Jenn…it was yummy…..tell me…what was it? I liked it so much I didn't share any with my family :O I normally bake cookies for Christmas gifts but I'm thinking I may have to use this idea.
Have a great day!!
p.s. Don't forget to check out the Stampin' Up! specials. Just 2 days left…..you can view the specials on my Stampin' Up! website…click on "Shop Now".