My "Celebrating You" Incentive is a way of showing you, my customers, how much I truly appreciate your loyalty & your business.
The details are:
*You will receive a punch card with your first $50 purchase of Stampin' Up! product. (I'll keep one on file too).
*Each card will have 10 punches and will be punched for every $50 increment.
* This does include sale promotions by Stampin' Up! but does not include special promotions offered by me (such as the In-color special).
*Once your card is complete with 10 punches you will receive $25 in FREE Stampin' Up! product.
*Orders placed through my Stampin' Up! website www.angiejuda.stampinup.net will be included. (Online ordering begins Sept 9th).
* Punch card does not apply to Chic n' Scratch Shack orders (examples are Ribbon shares, card kits, coaster kits, Chic Stand)
More exciting details:
Stampin' Up! has created a great little emblem celebrating their 20th Anniversary and it looks like this: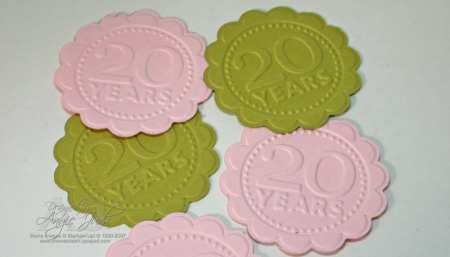 If you receive one of these it counts as a punch on your card. I'll be offering special opportunities throughout the year to earn them. Your emblems may not be shared or combined with a friend.
Please email me at chicnscratchmail@aol.com with any questions.