Good Morning!!
Just a quick update ….no stamping again yesterday. I had to use my morning to run some errands and by the time I got home I was exhausted. The meds the doc gave me are also making me sick. Two more days until I fly out for Convention….I'm soooo excited…..I just hope I feel better soon!!! (Sorry, I'm sounding like a broken record….I had to post to let you all know I'm okay.)
The card I'm sharing today was another card I was saving to show you next week while I was away….but I'm showing you early. Thanks Melissa for your darling card…. I love how you used the Fresh Cuts Stamp set!!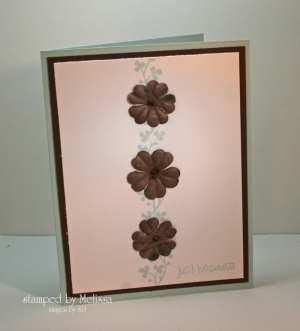 Have a great Sunday!
oops….. almost forgot……..I told the girls I would post a picture of some of the bags that were made at club this week. (these bags were made during the day club)