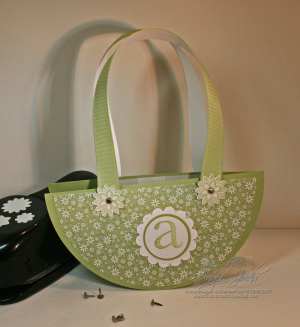 Good morning!!
I finally got a chance to stamp for fun!! Yesterday I made two more handbags and filmed a video tutorial. If you liked the May Day Basket I shared on Friday….this is the same bag.
Had a little trouble loading the video last night so please check back in a few hours. I'll post a little note here when I get it loaded over on my Stampin' Academy.
Noon Update…Video is loaded 🙂 head on over to my Stampin' Academy….. not sure what is wrong with Veoh but hopefully you'll think it's worth the wait! (thanks for your patience!! do you want to know how many times I tried to upload the video :O ??
The 2nd picture is the same bag I made using our Carousel Notes from the Stampin' Up! Occasions Mini Catalog (page 7), it's cute isn't it? I love those Build a Brads too!!
To make one of these bags you'll need a 6 1/2″ circle cutter….or… you can use the Carousel Notes 🙂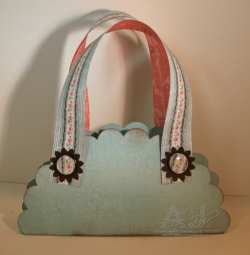 Have a great day!!