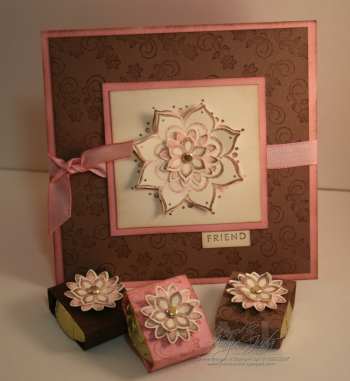 Good morning!!
The card I'm sharing with you today is kinda bittersweet… One of the two stamp sets I'm using is not available right now. There seems to be a problem with the stamp set matching the punch….but, since I have both I can give you some advice. All you need to do is stamp the flowers on the far left corner of your paper and it will work….it's not completely perfect…but it works for me!!!
p.s. When the "One of a Kind" stamp set becomes available again, I'll give you 10% off the stamp set only, for one week…just make sure you remind me when you order.
As for the Dove Chocolates….aren't they sooo stinking cute? I'll share a little story with ya…went to Walmart in search of the candy you see on the front our new catalog (go look if you've never noticed). Did not have any luck finding them and I even had the dude from Walmart looking everywhere…bless his heart….he kept trying & every time he'd show me one I'd shake my head no. Still don't know what they are…do you? It appears they are a perfect square..but oh well, the Dove Chocolate works :))))
Thanks for stopping by…. see ya tomorrow!!
STAMPS: One of a Kind and Boho Backgrounds INK: Pretty in Pink, Chocolate Chip & Close to Cocoa CARDSTOCK: Very Vanilla, Close to Cocoa, Pretty in Pink & Chocolate Chip TOOLS & ACCESSORIES: Gold Brads, Pretty in Pink Taffeta Ribbon, Dimensionals, Boho Blossoms Punch & Sponge