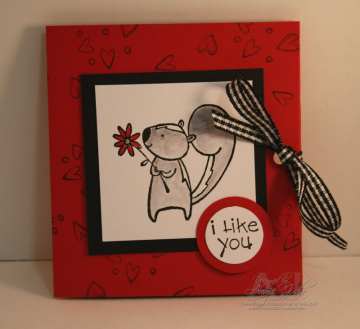 Good morning!
Today I'm sharing with you the Ghirardelli chocolate holder that I was playing with last week. I think it's cute, but felt something was off, maybe if I added a black circle behind the red. I could also change the Gingham Ribbon to the Black Grosgrain. Oh well, I put it aside & got out my pink & brown because those are easy colors for me.
The Pun Fun stamp set is the skunk image and it's just too cute for words. The background I used is Sprinkles, also darling, and the words are from Family Phrases.
Have a great Sunday and thanks for stopping by!
p.s. here's a picture of last years chocolate holder.