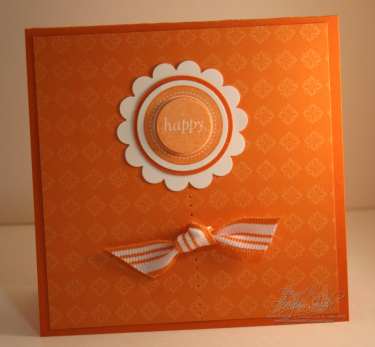 Good morning Stampers!!
I just couldn't wait to show you this card!! I know, I said I wasn't going to show you the cards every month, and maybe next month I'll follow my own rules :)) hee hee
So, if you've already purchased the March kit…here's the card you're getting….if you'd like to purchase the kit, click on the Buy Now Button & place your order.
Here's all the details….
Birthday Card Club/Kit – a new card will be showcased each month
There will be two cards in each kit, one completed & another to make (envelopes included). Kit contains the cardstock, designer paper, ribbon & scallop circle. All you'll need to do is stamp & assemble!!
The cost of each kit is $6.00 shipping is FREE!
Deadline to order the March kit is Feb. 15th & orders will be shipped by the end of the month.
As always, if you have any questions, please don't hesitate to contact me!