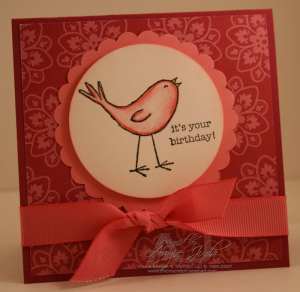 Hello, it's me again! I just couldn't hold off posting this darling card any longer. I got new stamps today and I finally had a minute to make a card.
This stamp set (A Little Birdie Told Me) is in the Preview Catalog for all the demonstrators to preorder and you can order it starting Jan. 1st! Let me warn you…(hee hee) I will use this set just like the Merry & Bright in the last mini, so go ahead and put it on your wish list!! Notice the new designer paper? Yes, that's available Jan. 1st too and it's called "Bali Breeze".
Normally on Friday nights I'm glued to the tube watching "Moonlight", but it's not on tonight. Dec. 14th it returns on CBS!!! If you haven't seen it yet, you can find all the episodes on the internet or you can ask me and I'll give you a link. If you've read all the Stephenie Meyer books you will love this show!
See ya tomorrow!!