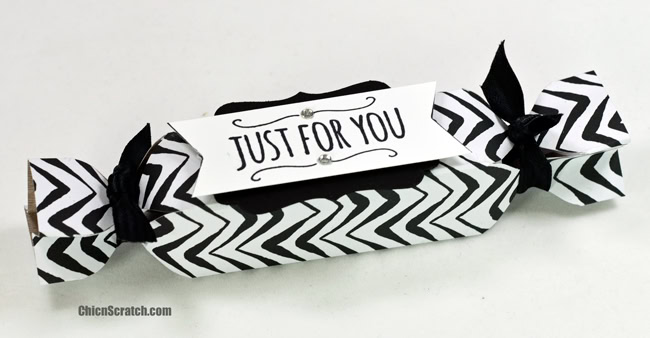 Click here to see how to assemble the box …. please note that the DSP for this box is 1/2 smaller (4-1/2 x 6 verses 4-1/2 x 6-1/2).
Stamps: You're so Sweet 138682 (w) 139440 (c)
Ink: Black Stazon 101406
Paper: Go Wild DSP Stack 138441, Whisper White 100730, Basic Black 121045
Accessories: Simply Scored Scoring Tool 122334, Envelope Punch Board 133774, Rhinestones 119246, Dimensionals 104430, Paper Snips 103579, Decorative Label Punch120907
Measurements
DSP: 4-1/2 x 6
White: image
Basic Black: Decorative Label Punch
Please read instructions all the way through before you begin.
Place the DSP on the Simply Scored Scoring Tool in portrait mode and score @ 1, 2, 3, 4.
Fold it on the first score line and place it in landscape mode on the Envelope Punch Board, line the edge up to 1" and press the button. Repeat on all score lines and at the end.
Turn and repeat process on other side.
Place adhesive on the 1/2 strip and seal (add candy first).
Squeeze the ends with tie with Ribbon.
Stamp "just for you" on Whisper White Card Stock with Black Stazon Ink and cut out with Scissors (follow the line).
Attach image to Black card stock cut out with the Decorative Label Punch with a Dimensional.
Add to box with a Dimensional.
Add Rhinestones.

Special Note: This box is assembled exactly like the 12 Weeks of Halloween 2015 Week #2 ….but the Designer Series Paper measures 4-1/2 x 6 instead of 4-1/2 x 6-1/2.
Thanks for being a newsletter subscriber!!