Here's are the details for my reward punch card and how you can earn punches for your Stampin' Up! orders!
You earn one punch for every $25 (before tax & shipping). Orders can not be combined to reach $25. For example if you order 48.70…..you get one punch and the leftover amount does not carry over.
You are responsible for keeping track of your punches.
You have two options for redeeming your card
Earn 10 punches & redeem your card for a stamp set valued at $19.95 or below or 3 FREE Chic Stands.
Earn 20 punches & redeem your card for any stamp in the Idea Book & Catalog (hostess sets are not included).
Punches will expire in two years (I've made it easier for you to redeem at 10 punches).
You can Earn Hostess Benefits for orders $150 & up as long as you order on my site…ordering through stampinup.com does not give you hostess benefits. (Hostess dollars do not earn punches on your card.)
Click here to place an order on my Stampin Up site.
How to redeem your punch card:
Once your punches are complete .. email me your punch sheet (angie@mychicnscratch.net) with your free stamp set choice.
Once I've confirmed your punches, I'll place your order.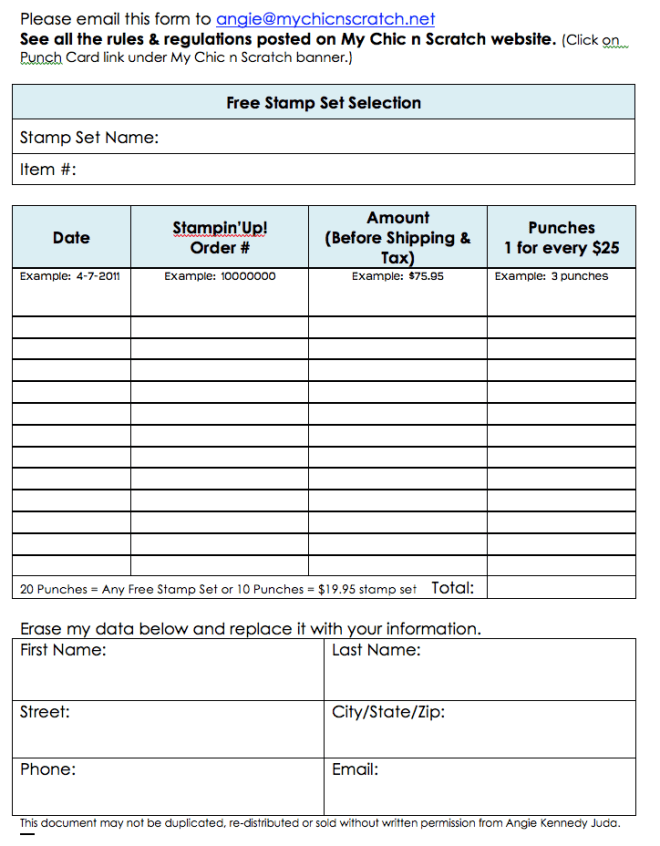 Not included:
The Chic Stand orders (catalogs, coasters, instructions)
Product Shares
Specials offered by myself (example: Black Friday/Cyber Monday).
If you have any questions please do not hesitate to contact me.