My 12 Weeks of Halloween 2023 Week 4 project is this cute tote box that will hold all sorts of Halloween candy! It was made with Basic Black Cardstock using Box Template 125.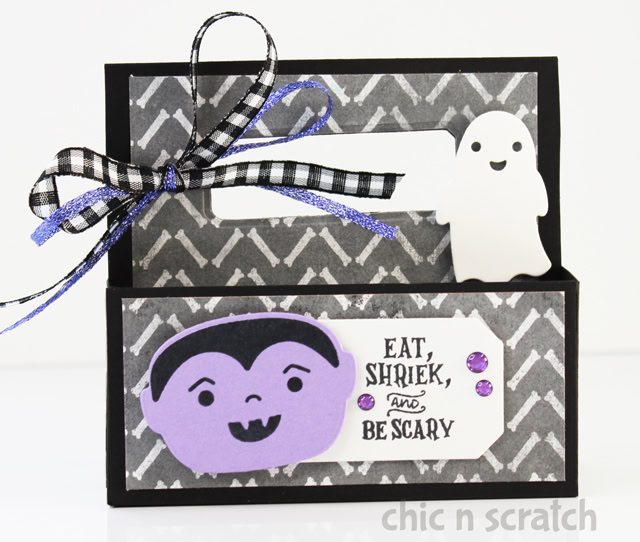 The Dracula and ghost dies are in the Tricks and Treats Dies and the greeting is from the Bag of Bones Stamp Set. Both will be available on September 6th.
The handle and the white layer behind Dracula was cut out with the Countryside Corners Dies.
Here's a picture of the box with candy…
How to Video
Step by Step instructions on how to make the 12 Weeks of Halloween 2023 Week 4 Box.
CLICK HERE TO WATCH THE VIDEO ON YOUTUBE
FREE Printable – PDF that includes pictures, supplies and measurements. Click on the image below to print the Printable.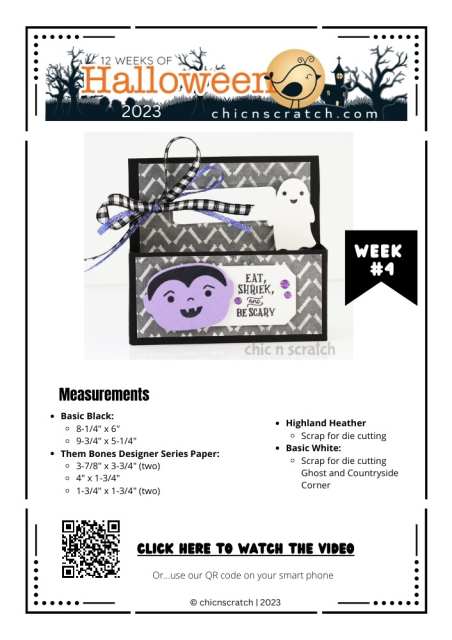 ---
Holiday Catalog Paper Shares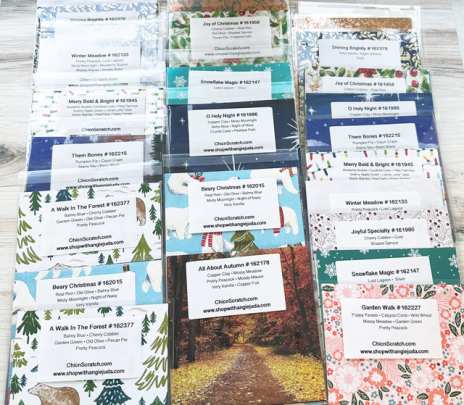 CLICK HERE FOR ALL THE DETAILS
We also will have the Christmas Grinch Adhesive Baskets.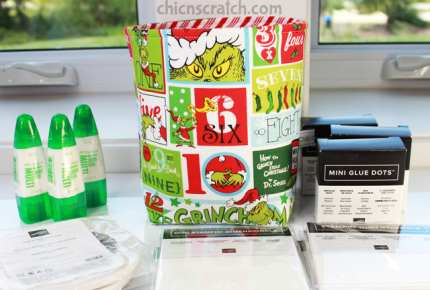 ---
Card Club
September Card Club will feature the Them Bones Bundle and the deadline to join is September 5th.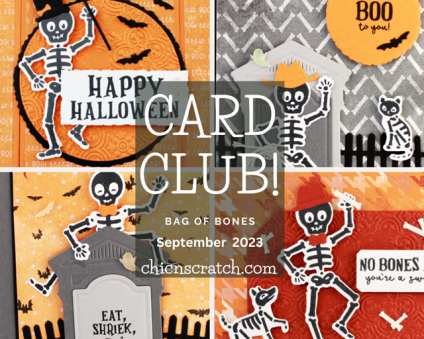 CLICK HERE TO LEARN MORE ABOUT CARD CLUB
---
12 Weeks of Halloween Chic Candy – Week 4
You have two ways to enter to win our 12 Weeks of Halloween Chic Candy!
One (1) entry for every $25 when placing a Stampin' Up! order with me August 31st – EXTENDED to Sep 13th. Be sure to leave a comment… to get more entries.
One (1) entry – Leave a comment at the bottom of this blog post to enter to win.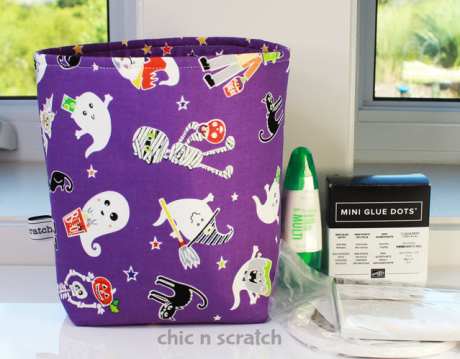 This is the same basket as week 4, I made six of them to giveaway during my 12 Weeks of Halloween.
Congrats to our Week #3 Chic Candy winner, Christine Hannan! Christine, please fill out my claim form so that I can ship your gift asap.
---
NEW Host Code: HNHAAK6C
Dates: August 16th – 31st, 2023
Free Host Code Gift with a minimum $50 order (before tax and shipping) and you have a choice with this Host Code.
A. Tear & Tape Adhesive
B. Stampin Blends Markers (your choice of color)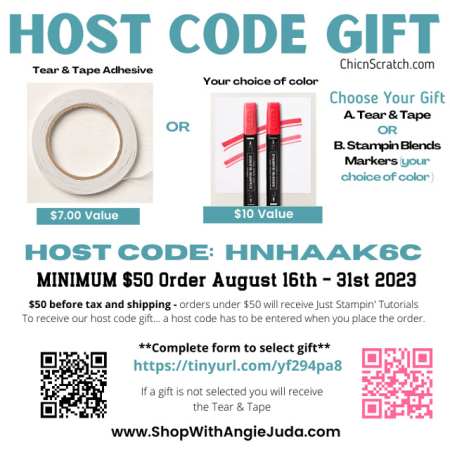 Minimum order is $50 on one order – multiple orders can not be combined. Orders under $50 will receive our Just Stampin Tutorials.
One Host code gift per order is allowed. If you place a 2nd order you qualify for a 2nd gift.
Orders placed with a Host Code can not be used for Chic Rewards.
Need help placing an order? – CLICK HERE to watch my video on how to place a Stampin' Up! order using your computer or Smart Phone. Or CLICK HERE for pictures on how to enter a Host Code.
Click here to fill out the form after you've placed your order. If a gift is not selected we will send you Tear & Tape.
---
September Host Code: PKUWBSBR
Dates: September 1st – 12th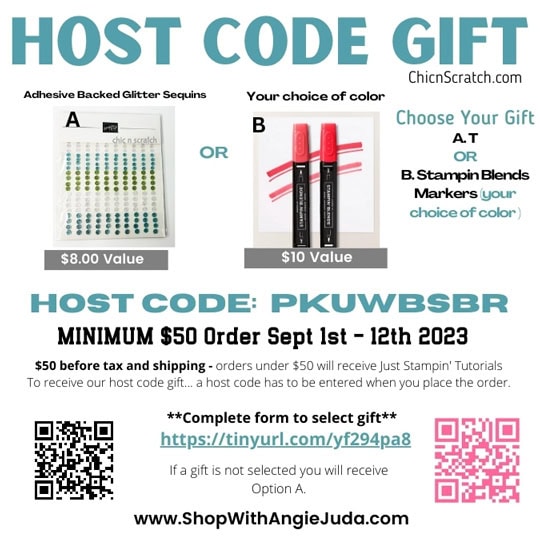 Click here to select your Host Code gift, after you have placed your order using our Sept 1st – 12th host code.
---
Kit Sale
All our Stampin' Up kits are on sale and they're 30 percent off. Shop Now.
---
Redeem Your Coupons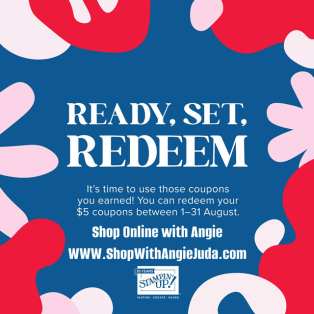 It's time to redeem the coupons you earned in July. Please remember that each coupon redeemed deducts that amount from the net of your order. If you are placing an order of $150 or more and want Stampin Rewards – you order after the coupon has been applied will need to be $150. The same for Chic Rewards – your order total must be at least $25 after redeeming your coupon.
If you have any questions please don't hesitate to contact me.
---
Just Stampin' Tutorials – FREE with an Order!
When you place an order with me this month you will receive these awesome tutorials!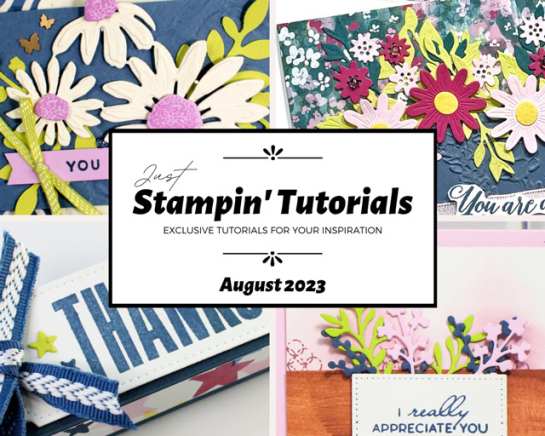 Receive it FREE with any Stampin' Up! order placed with me this month
Purchase the PDF tutorial for $7.95 (one month price). Click here to order.
Join my Team! They get them free!
---
Reminders
Card Club – Card Club is a package sent to your door every month with 8 cards and all the supplies you need to make them. Click HERE for details. Current members, login here.
Free Stampin' Up! product with Chic Rewards – Free product of your choice by earning one Chic Reward for every $25. Click HERE for details.
Stampin Rewards from Stampin' Up! All orders of $150 or more receive free hostess dollars to spend on anything you'd like in the Stampin' Up! Catalog. Redeem the Stampin' Rewards at the time of your online order. Keep track of these orders and earn additional free product with our Chic Rewards program.
Join Stampin' Up! – $125 in product of your choice for $99. Hobby demos/Discount Shoppers and Business Builders are welcome!

Free Shipping on the Starter Kit
Be a member of our amazing Chics Paper Ink group!

Fabric Basket – Click here to learn how to make a Fabric Basket
Have a question? Please use our help desk email when you have a question.
Stampin Up Products
Bag of Bones Stamp Set – 162216
Tricks & Treats Bundle – 162226
Tricks & Treats Stamp Set – 162223
Tricks & Treats Dies – 162225
Them Bones Designer Series Paper – 162215

Thanks so much for stopping by, have a great day!!