Happy Friday everyone!! I'm here today to share the gift for my Card Club founding members!
When I started Card Club in January (or late December) I will admit I was a tad nervous! Years and years ago I had a subscription club for several years but the technology back then verses now made it a huge difference. In the old days, most everything was done manually. But now… so much of what we can can be automated. Like the automatic payment made on one day only and I get a report of everyone (instead of manually checking each person on the list).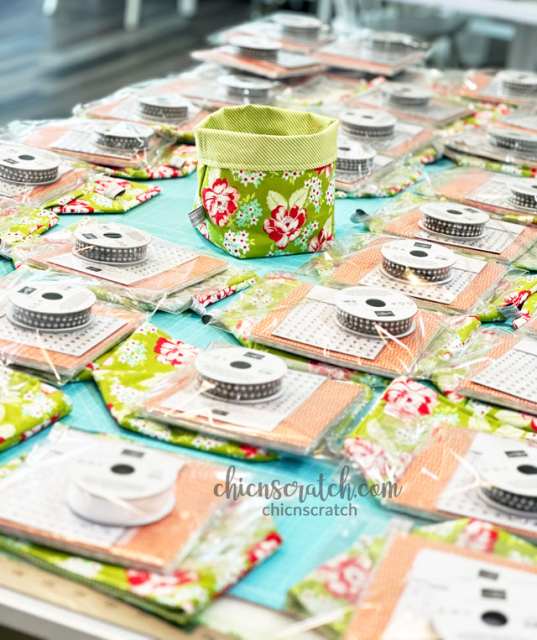 So, I knew when I started Card Club I was going to do something special for our founding members. Our founding members joined in January and just wrapped up their sixth month in June and here's the Swag Bag of product and the fabric baskets I made for them.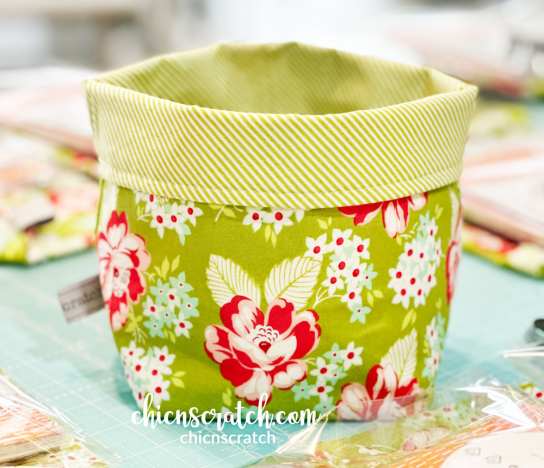 I'm so very thankful for my club members and what makes me really happy is that they love and appreciate the packets!!
I just have to share this… one of our founding members (Teri) sent me an email to thank me and shared this… "what I make with my hands, I give with my heart". That is so very true!!
Special note: Please do not join Card Club for the purpose of receiving a fabric basket after six straight months as a member. We have not made a decision on what we will do going forward after this first year.
If your sixth straight month is July and August… I'm in the process of making your fabric baskets.
Click here to learn more about Card Club
---
Bonus Days
Dates: July 6th – 31st, 2023
Earn a $5 coupon for every $50 spent (before shipping and tax).
All coupon codes will be emailed right after a qualifying purchase has been made.
If a participant earns multiple codes from a single order, they will receive one email with multiple codes. If they earn multiple codes from multiple orders, they will receive separate emails for each code earned.
Orders that are started before the promotion begins will not count toward earning coupon codes. For example, if you add items to your cart before 6 July and wait to purchase until that date or later, then those items will not qualify towards earning coupons. You must add items to your cart and complete your purchase during the earning period.
There is no limit to the number of coupon codes participants can earn per order or throughout the duration of the earning period.
---
Host Code: C46RZQ9H
Dates: July 1st – 15th, 2023
Free Host Code Gift with a minimum $50 order (before tax and shipping) and you have a choice with this Host Code.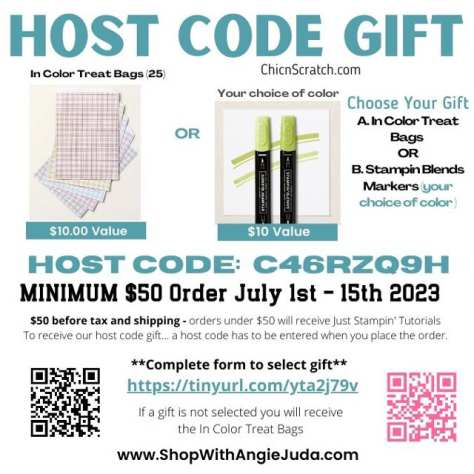 Minimum order is $50 on one order – multiple orders can not be combined. Orders under $50 will receive our Just Stampin Tutorials.
One Host code gift per order is allowed. If you place a 2nd order you qualify for a 2nd gift.
Orders placed with a Host Code can not be used for Chic Rewards.
A. In Color Treat Bags
B. Stampin Blends Markers (your choice of color)
CLICK HERE to fill out the form after you've placed your order. If a gift is not selected we will send you the In Color Treat Bags.
Need help placing an order? – CLICK HERE to watch my video on how to place a Stampin' Up! order using your computer or Smart Phone. Or CLICK HERE for pictures on how to enter a Host Code.
SPECIAL UPDATE: Some of the Stampin' Blends Markers have gone on backorder. If you've chosen one not available we need you to choose one that is in stock. Thank you so much!
---
CHIC CANDY 170
You have two ways to enter to win Chic Candy 170!
One (1) entry for every $25 when placing a Stampin' Up! order with me July 1st – 15th. Be sure to leave a comment… to get more entries.
One (1) entry – Leave a comment at the bottom of the Chic Candy 170 blog post.
Card Club members will receive one (1) entry. Once all the payments have been received on July 5th I'll add your names to the Chic Candy spreadsheet.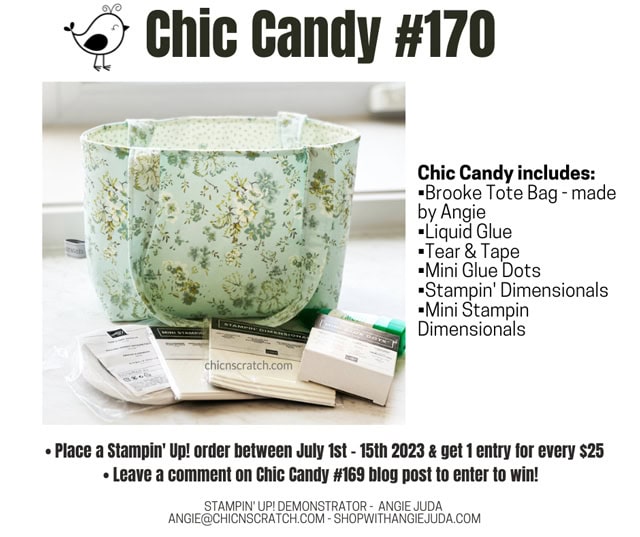 Chic Candy 170 includes:
Brooke Tote Bag made by Angie (medium size)
Assortment of adhesive that includes – Liquid Glue, Tear & Tape, Mini Glue Dots, Stampin' Dimensionals, Mini Stampin' Dimensionals.
We will announce the winner for Chic Candy 170 when we post Chic Candy 171.
---
Just Stampin' Tutorials – FREE with an Order!
When you place an order with me this month you will receive these awesome tutorials!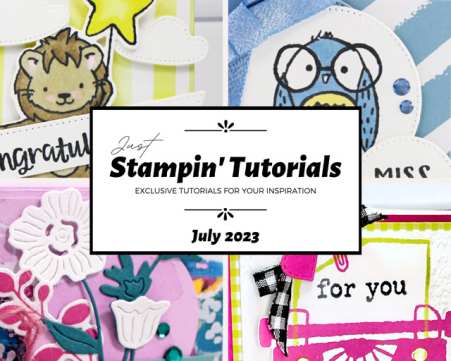 Receive it FREE with any Stampin' Up! order placed with me this month
Purchase the PDF tutorial for $7.95 (one month price). Click here to order.
Join my Team! They get them free!
---
Reminders
Card Club – Card Club is a package sent to your door every month with 8 cards and all the supplies you need to make them. Click HERE for details. Current members, login here.
Free Stampin' Up! product with Chic Rewards – Free product of your choice by earning one Chic Reward for every $25. Click HERE for details.
Stampin Rewards from Stampin' Up! All orders of $150 or more receive free hostess dollars to spend on anything you'd like in the Stampin' Up! Catalog. Redeem the Stampin' Rewards at the time of your online order. Keep track of these orders and earn additional free product with our Chic Rewards program.
Join Stampin' Up! – $125 in product of your choice for $99. Hobby demos/Discount Shoppers and Business Builders are welcome!

Free Shipping on the Starter Kit
Be a member of our amazing Chics Paper Ink group!

Fabric Basket – Click here to learn how to make a Fabric Basket
Have a question? Please use our help desk email when you have a question.

Thanks so much for stopping by, have a great day!!