I'm here today to share with you the Stampin' Up! Paper Sale and Chic Candy 168. You can also join Stampin' Up! for $99 and get $155 in product of your choice.
The designer series paper is 15% off. Click here to print the special flyer.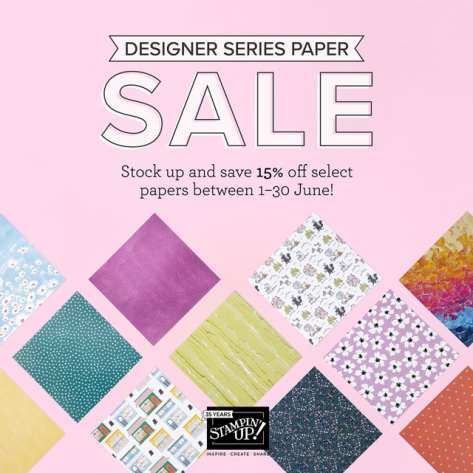 ---
Join my Chics Paper Ink team for $99
It's a fabulous time to join Stampin' Up! You will get even more FREE products in your customizable Starter Kit. Between June 1st – 30th, you can get $155 worth of products for only $99 + free business supplies + free shipping + all the fun being a part of Stampin' Up!
If you have any questions about joining, you can check out more details here. Or you can email me or give me a call! I'd love to chat with you about joining my awesome team!
---
Chic Candy 168
You have two ways to enter to win Chic Candy 168!
One (1) entry for every $25 when placing a Stampin' Up! order with me June 1st – 15th. Be sure to leave a comment… to get more entries.
One (1) entry – Leave a comment at the bottom of this blog post.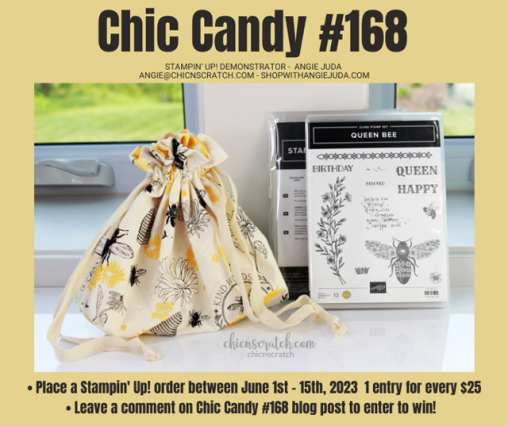 Chic Candy 168 includes:
Queen Bee Stamp Set
Queen Bee Dies
Drawstring Bag made by Angie
We will announce the winner for Chic Candy 168 when we post Chic Candy 169.
Chic Candy 167 – Congrats to our winner Joan Cunningham! She won by placing an order.
---
Card Club
June Card Club will feature the Hey Chuck Bundle. The deadline to join is June 5th.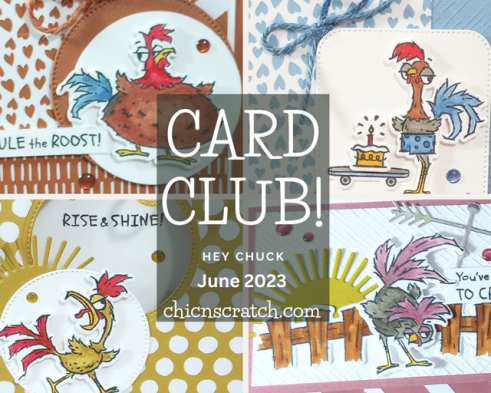 CLICK HERE TO LEARN MORE ABOUT CARD CLUB
June is the 6th consecutive month for some of our Card Club members and that means it's time for your FREE gift. We will ship those out after Card Club has shipped and everything is wrapped up for June.
---
NEW Host Code: SDMN76WJ
Dates: May 31st – June 15th, 2023
Free Host Code Gift with a minimum $50 order (before tax and shipping) and you have a choice with this Host Code.
Minimum order is $50 on one order – multiple orders can not be combined. Orders under $50 will receive our Just Stampin Tutorials.
One Host code gift per order is allowed. If you place a 2nd order you qualify for a 2nd gift.
Orders placed with a Host Code can not be used for Chic Rewards.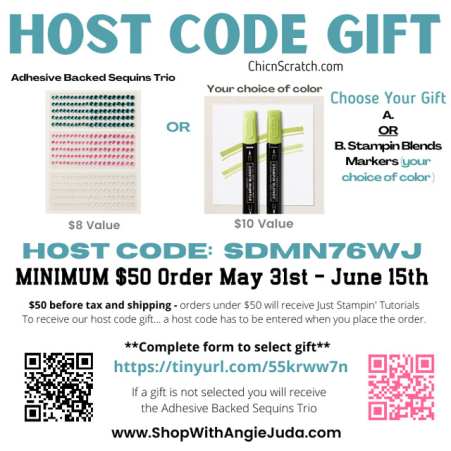 A. Adhesive Backed Sequins Trio
B. Stampin Blends Markers (your choice of color
CLICK HERE fill out the form after you've placed your order. If a gift is not selected we will send you the embellishment.
Need help placing an order? – CLICK HERE to watch my video on how to place a Stampin' Up! order using your computer or Smart Phone. Or CLICK HERE for pictures on how to enter a Host Code.
---
Reminder
Card Club – Card Club is a package sent to your door every month with 8 cards and all the supplies you need to make them. Click HERE for details. Current members, login here.
Free Stampin' Up! product with Chic Rewards – Free product of your choice by earning one Chic Reward for every $25. Click HERE for details.
Stampin Rewards from Stampin' Up! All orders of $150 or more receive free hostess dollars to spend on anything you'd like in the Stampin' Up! Catalog. Redeem the Stampin' Rewards at the time of your online order. Keep track of these orders and earn additional free product with our Chic Rewards program.
Join Stampin' Up! – $125 in product of your choice for $99. Hobby demos/Discount Shoppers and Business Builders are welcome!

Free Shipping on the Starter Kit
Be a member of our amazing Chics Paper Ink group!

Fabric Basket – Click here to learn how to make a Fabric Basket
Have a question? Please use our help desk email when you have a question.
Thanks so much for stopping by, have a great day!!
p.s. Thank you again for all your prayers for Brooke!! She moved back home yesterday and Dave and I both said last night that we want her to come back. It's so quiet without her and the birds. But, we are so glad she feels well enough to go home.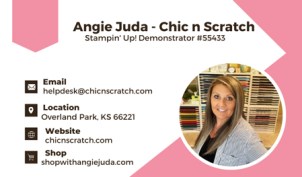 CLICK HERE On Shop Online – OrderwithAngie.com