Chic n Scratch Live 96 – I'll be going live Tuesday evening at 7pm central time.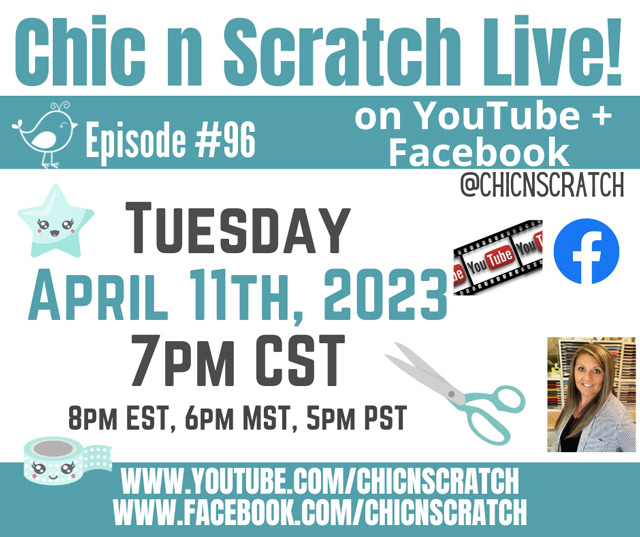 CLICK HERE to watch on You Tube at 7pm (central time).
CLICK HERE to watch on Facebook at 7pm (central time).
---
Fabric Baskets

Our next Bingo event is the first week of May and I've started making Fabric Baskets. We're making some changes to our Bingo events and will officially announce the date next week.
Here's a new size fabric basket that I will be sharing with you very soon. Both of them were made with the Bee Gingham Fabric by Lori Holt for Riley Blake Designs.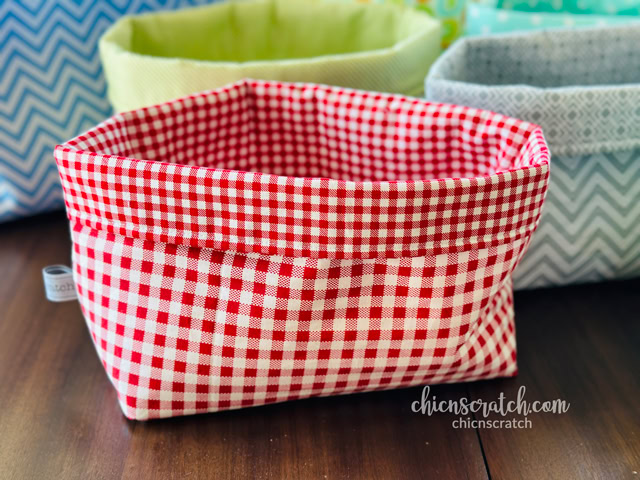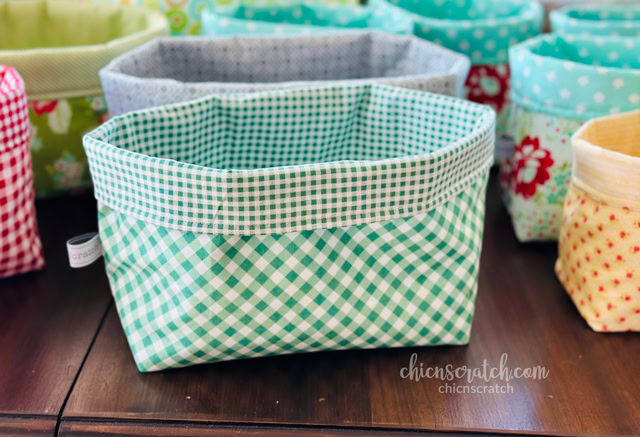 I've started filming NEW Fabric unboxing videos because I always get ask where I buy my fabric. I've shared two so far and have another one for this week. CLICK HERE if you would like to watch the NEW Fabric Unboxing videos.
Click here to learn how to make a Fabric Basket
---
Last Chance Sale
Stock up on your favorite products before they're gone for good! You can save up to 60% on your paper crafting supplies. This selection of Last Chance Products is only available while supplies last.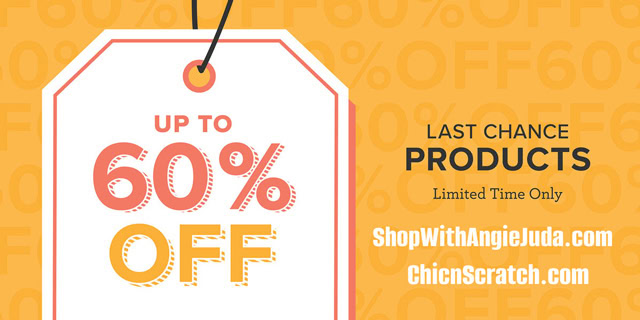 CLICK HERE TO DOWNLOAD THE MINI CATALOG RETIRING LIST.
CLICK HERE TO DOWNLOAD THE ANNUAL CATALOG RETIRING LIST
Shimmery White Cardstock and the Gnome Dies have been added to the Retiring List.
---
NEW Host Code: 7FMGJ9ZX
Free Host Code Gift with a minimum $50 order (before tax and shipping) and you have a choice with this Host Code.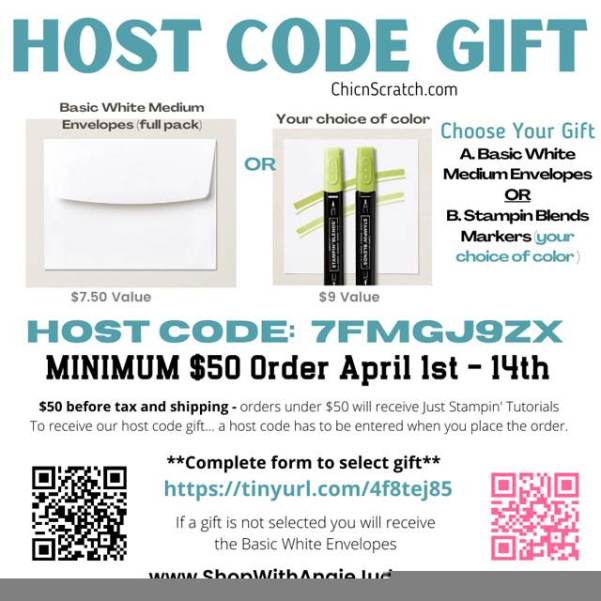 Need help placing an order? – CLICK HERE to watch my video on how to place a Stampin' Up! order using your computer or Smart Phone. Or CLICK HERE for pictures on how to enter a Host Code.
A. Basic White Medium Envelopes
B. Stampin Blends Markers (your choice of color
Minimum order is $50 on one order – multiple orders can not be combined. Orders under $50 will receive our Just Stampin Tutorials.
One Host code gift per order is allowed. If you place a 2nd order you qualify for a 2nd gift.
Click here to fill out the form after you've placed your order. If a gift is not selected we will send you the Basic White Medium Envelopes.
---
Chic Candy 165
You have two ways to enter to win Chic Candy 165!
One (1) entry for every $25 when placing a Stampin' Up! order with me April 7th – 18th. Be sure to leave a comment… to get more entries.
One (1) entry – Leave a comment at the bottom of the Chic Candy 165 blog post.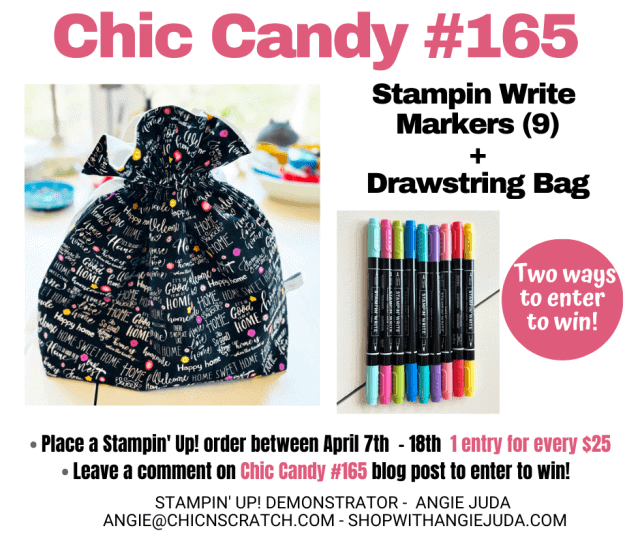 ---
Just Stampin Tutorials – Free with an order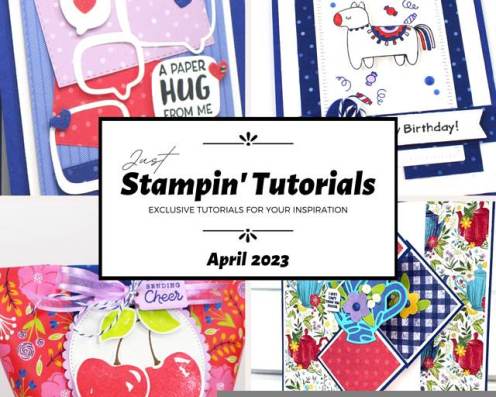 When you place an order with me this month you will receive these awesome tutorials!
Receive it FREE with any Stampin' Up! order placed with me this month
Purchase the PDF tutorial for $7.95 (one month price). Click here to order.
Join my Team! They get them free
---
Reminders
Card Club – Card Club is a package sent to your door every month with 8 cards and all the supplies you need to make them. Click HERE for details. Current members, login here.
Free Stampin' Up! product with Chic Rewards – Free product of your choice by earning one Chic Reward for every $25. Click HERE for details.
Stampin Rewards from Stampin' Up! All orders of $150 or more receive free hostess dollars to spend on anything you'd like in the Stampin' Up! Catalog. Redeem the Stampin' Rewards at the time of your online order. Keep track of these orders and earn additional free product with our Chic Rewards program.
Join Stampin' Up! – $125 in product of your choice for $99. Hobby demos/Discount Shoppers and Business Builders are welcome!

Free Shipping on the Starter Kit
Be a member of our amazing Chics Paper Ink group!

Fabric Basket – Click here to learn how to make a Fabric Basket
Have a question? Please use our help desk email when you have a question.
Thanks so much for stopping by, have a great day!!
CLICK HERE On Shop Online – OrderwithAngie.com