Catalogs arriving soon!! The Stampin' Up! Mini Catalog and Sale a Bration Catalogs are shipping as I'm speaking/typing.

I have a couple reminders for you.
You

will not

receive both catalogs at the same time. If you receive one – the other one should arrive shortly.
The new catalogs Mini + Sale a Bration goes live on January 5th, 2021 – that's 19 days.
The world we live in now is not the same as it was a year ago. Our mail is moving slow! If I could fix it I would, but it is out of my hands.
I'm asking for your grace and patience this holiday season. If you requested a Catalog or earned one for free by placing orders with me. You will get your catalogs. It just may be not as quick as you'd like.
If you want me to confirm that you're getting a catalog from me, fill out THIS FORM and we will check our spreadsheet to confirm it for you. I paid Stampin' Up! on November 30th to mail the catalogs to my customers. I have a list – but sadly that list doesn't contain email addresses just names (hence the reason why I haven't emailed you personally). I will do everything in my power to get these catalogs to you before January 5th.
Now for a personal note ….
If you were on my live video yesterday I mentioned that I had just gotten the news that my aunt had been put in ICU (with Covid), sadly she passed away just a few hours later. My heart is broken!! Aunt Cecilia treated me as a daughter and a friend and she was one of a kind. She allowed me to share all my concerns, sadness and joyful moments. I could throw my husband down the river one minute and then say how much I loved him the next and she understood and we would laugh so hard. She listened but never passed judgement and was always there for me. I'm so incredibly sad that I didn't get a chance to say goodbye to her!! She was getting better and going home today. I thought I would call her when she got out…. but she took a turn for the worse. She came into this world on December 16th and left it on the same day. May you rest in peace Aunt Cecilia ❤️
I'm going to continue to offer my Flash Sale tomorrow– Friday, December 18th on the Stampin' Cut & Emboss Machine. I need the distraction and helping others will help my heart. I'll repost all the details later today.
Special Host Code: XHRQJN3V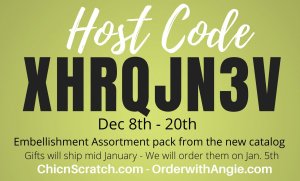 December 8th – 20th

Embellishment Assortment pack from the new catalog

with a Minimum $50 order.

Gifts will ship mid January – We will order them on Jan. 5th

**Please read all the details before placing an order using a Host Code.**
Stampin' Anonymous Tutorials
You have three ways to get this amazing tutorial….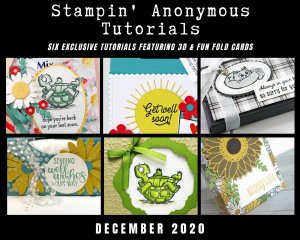 Reminders
Free Stamps or Dies with Chic Rewards – Earn a Free Stamp Set or Dies by earning one Chic Reward for every $25. Click HERE for details on you can earn a Free Stamp Set or Dies.
Stampin Rewards from Stampin' Up! All orders of $150 or more receive free hostess dollars to spend on anything you'd like in the Stampin' Up! Catalog. Redeem the Stampin' Rewards at the time of your online order. Keep track of these orders and earn a free stamp set or set of dies with our Chic Rewards program.
Thank YOU for stopping by, have a great day and stay healthy!!
Click HERE to shop online – OrderwithAngie.com